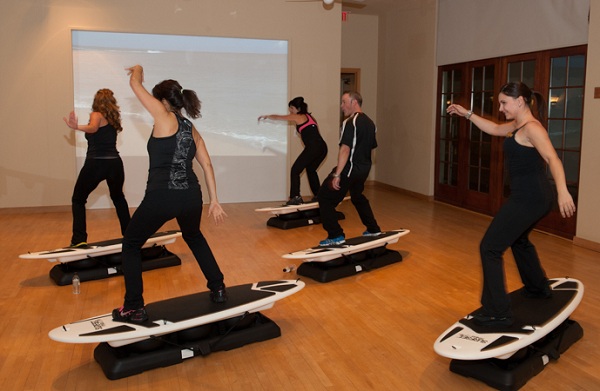 Have you ever tried surfing? I have, twice. I went all the way to Hawaii to bite it (repeatedly) in 1-foot high baby swells. I did get a workout (my arms, my core, my legs), but mostly I just swallowed a ton of water, not to mention my pride.
That's why I was so excited that Well & Being at Willow Stream, the new and improved spa at the Fairmont Princess Scottsdale, is serving up dry surf classes – no plane ride to Hawaii or wetsuit required. Sign me up!
One of the pluses of resort fitness classes is they're small and intimate. Lots of personalized attention! One of the minuses is you can't hide in the back of the class, which is kinda what I wanted to do. Balance isn't my strong suit. I sway in tree pose and that's on a stationary surface – and the surfboard used in the TRX/SurfSet Fusion class sits on resistance balls, meaning it moves and grooves with your body weight (It's designed to mimic the real thing). With each wobble, I felt like a total fish out of water. But with the help of Debbie, a bubbly personality who's been teaching at the Princess for 10 years, and my fellow surfers (most first-timers), we all left our comfort zones and braved the new waters together.
Before I knew it, Debbie had us squatting, kicking, paddling, planking and even jumping on our boards. At first, the jump seemed impossible ― no way was I leaping into the air and landing on an unsteady surface ― but my "I can't" attitude quickly changed to "I can" with the you-can-do-it cheers from my fellow Hang Ten-ers. That one jump turned out to be one giant leap in confidence. In a flash, I went from a wishful wallflower to a surf diva willing to attack the imaginary waves with gusto. The larger-than-life surf footage playing in the background only added to my new attitude.
I was so busy having fun, I forgot I was burning some serious calories. My heart rate was up and my core engaged the whole time. Ditto during the TRX portion (holy burn!). Actually, I'm pretty sure every single muscle group got a workout.  I walked away with burning thighs and a burning desire to surf again at the Princess.
Psst: Surfing isn't the only class offered at Well & Being, a spa that prides itself on fitness as much as pampering. There's Ballet, Aerial Hammock Yoga, Pilates and Krank Fusion to name a few. By booking a spa treatment, you have access to all the fab fitness offerings.