By: Brittney Clarizio- Village Health Club & Spa Registered Dietitian
Thanksgiving and dieting regimes are two very unlikely pairs, and while most decide to take the big "L" on health and portion size on this day, there are ways to stay diligent and on top of your healthy eating throughout the holiday season.
Here are some dieting secrets to help keep you motivated throughout the family feasts and holiday festivities: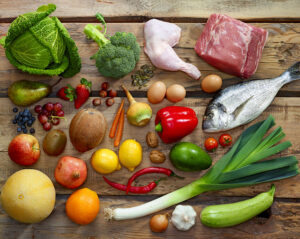 1.  Macro-nutrition 
The whole idea of a macro-based diet is really quite simple. It is a form of "dieting" that allows you some balance by eating foods in an amount that fits into your macro nutrients. Macros are protein, carbohydrates, and fats – and the diet is based around how many macros you are allowed in a day based upon your age, weight, metabolism, and goals.
2. Carbohydrates are not the enemy
Carbohydrates is the only fuel our brain uses, so if you dip too low in carbohydrates your brain will not be able to function properly. Healthy choices include sweet potatoes over regular potatoes (mashed sweet potatoes perhaps?) or whole grain breads, pasta, and brown rice over their simple refined or "white" varieties.
3. Some vegetables are better than others 
A vegetable's nutrients are often attached to their colors, so variety is key. Spinach and kale are definitely a powerhouse team nutritionally, but orange squash and carrots are a huge dose of vitamin A.
4. Timing is key
Fruit is a great choice pre-workout about an hour before. The energy is released quickly and has anti-inflammatory benefits to reduce inflammation post workout. Post work-out meals should include lots of protein and carbohydrates- especially if your workout involved training. If your workout is close to a mealtime, that's a good time to have some lean meat (turkey left over maybe?), fish, or eggs + a healthy carbohydrate like sweet potato or quinoa.