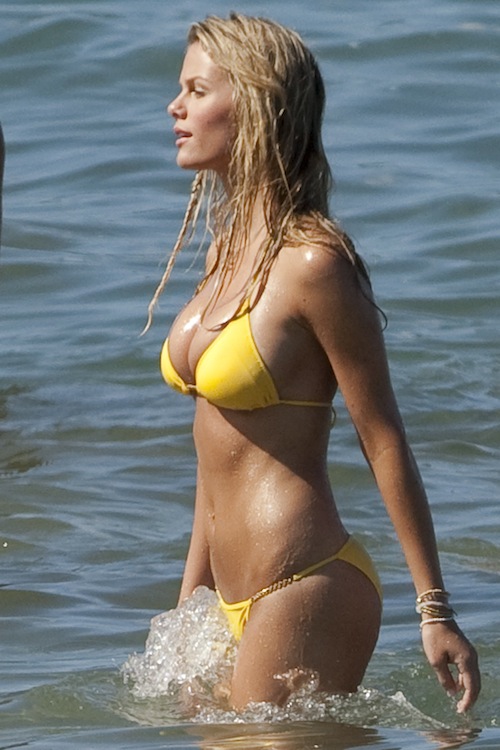 First, I wanted to let you know the "Best Bikini Body" winners. Thanks a bunch to everyone who voted… but I have to say I was little surprised by the results. I woulda thought for sure leggy Gisele would've taken best gams and Halle woulda won curves. I was so wrong. See for yourself
Best Butt
Jessica Biel (55%)
Jennifer Aniston (45%)
Best Abs
Kate Hudson (56%)
Jessica Alba (44%)
Best Legs
Marisa Miller (84%)
Gisele Bundchen (16%)
Best Curves
Brooklyn Decker (79%)
Halle Berry (21%)
Best Over 40
Elle Macpherson (73%)
Stephanie Seymour (27%)
And a celeb bikini body can be yours too! Don't believe me, just look at Lisa Robins. Wowsa! Lisa is a personal trainer, fitness instructor, model and mom – and here she shares all her bikini-body secrets….
Lisa's 8 Tips For Being A Fit & Glowing Beach Bunny
Are you in hot pursuit to look your best in your swimsuit? Whether you're going to be strapless, backless, booty bearing or teeny-tiny, it's your fit and healthy body that makes your bikini pop. Your goods, primarily your shoulders and glutes, must be high and mighty and definitely tight and toned. Meet them in the middle with a cinched waistline, and you're set to rock your best body poolside.
1. HPC – My signature 3 letter code stands for High Powered Circuits, which is the style of training I am known for, that guarantees results. Blast fat and unwanted bloat by combining explosive power moves with heart-pounding cardio blasts, with minimal rest periods.
2. Shoulders – Often a second-choice muscle selection by ripped-arm 'wannabees', who often choose exercises such as bicep curls over pushing thru basic shoulder cap building moves. Let the secret be told that good arms are crowned with sexy, statuesque shoulders… I never train my biceps or triceps.
3. Glutes – Go heavy and build! Squats and walking lunges are a must for a high and round booty, as well as crucial to adding muscle for scorching metabolism.
4. Planks – Should be done on most days of the week to flatten the tummy. Don't skimp the side raises, as well as the dreaded rotational planks to flatten the belly and draw in the waist.
5. Calories – 3500 calories=1 pound – Run the numbers…eat less and burn more to blast fat.
6. Fats – The first macronutrient I cut when the clock is ticking. While there are definitely heart-healthy benefits from eating certain fats, their net worth is so calorically dense, that when they are pulled, I benefit from replacing them with lower calorie foods to support overall fat loss.
7. Sodium – Drop that shaker and watch your condiments. Excess salt will cause water retention, which means a bloated belly. Add water flushers to your diet: Grapefruit, lemon, asparagus, pineapple and keep sodium under 2000 mg per day.
8. Consistency – Last, but honestly, the most crucial! No amazing body has ever morphed from scattered or unorganized gym dates and random nutrition. Creating a pattern with lots of layers and framework that is focused on efficiency creates a positive end-result.
To learn more
Lisa's 5 Fitness Favorites