Boutique fitness studios are all the rage. Classes and teachers are more specialized, classes are often more challenging and, since everyone knows your name, there's built-in accountability. And there's a brand spankin' new boutique studio in Arcadia that boasts all of the above: Kinesis Konnection.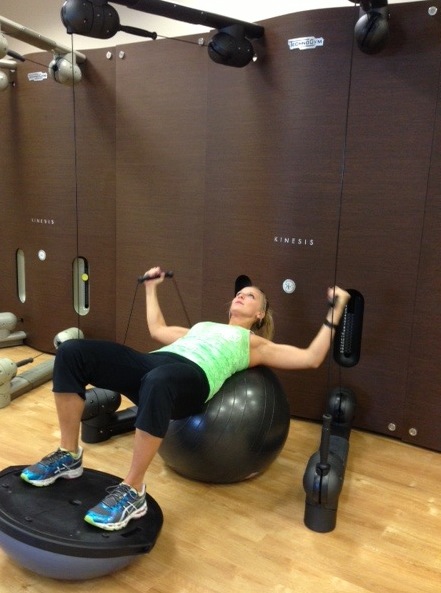 Have you heard of Kinesis? I've done it once before, and it was one of the most intense 40-minutes of fitness ever! The Kinesis device itself looks unassuming enough – it's a 4-station pulley system imbedded behind a sleep wall –  but it can seriously work your muscles in every way possible… and then some.
Lindsay Hyzer, the gal behind Kinesis Konnection, is no stranger to Kinesis or fitness. She has a sporty background, a degree in exercise science and plenty of experience whipping people into shape. Oh, and she has an infectious energy that'll make you push yourself just out of your comfort zone and into serious calorie-burning mode.
We didn't waste any time getting down to business. There were four of us in the 45-minute circuit-syle class (classes cap at 10), and Lindsay put us all through the paces. We lifted, lunged, rebounded and planked, working about half on the Kinesis wall and half off. Not often do group glasses get your muscles burning and heart racing, but Kinesis did both – and tapped into some new moves and muscles I didn't even know I had. By the end I was a sweaty mess.
I loved-hated every minute of it. That's the sign of a good class if you ask me. And given how hard I pushed myself, I was pretty sure I'd be super sore the next day… but wasn't. That's party because of the fluidity of the Kinesis machine (it gives you just what you need, whether you're a newbie or a pro athlete), and partly because of Lindsay. She's a stickler for detail, and won't let you get away with poor form. Translation: less chance for injury!
BTW: Your first class is free!