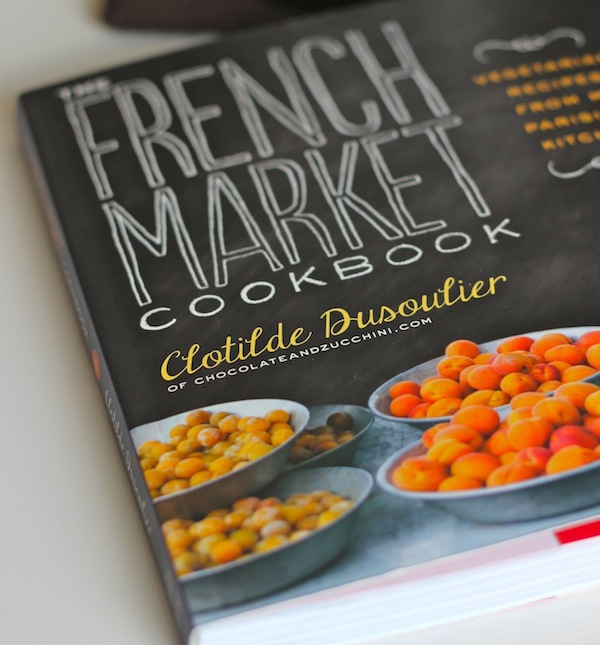 I'm a big food fan. Fresh, clean, whole foods. And I'm not the only one – the internet has exploded with healthy food blogs full of recipes proving that healthy eating can taste truly delish. One of my go-tos is ChocolateandZucchini.com, a long-running foodie fave by Clotilde Dusoulier, a food writer based in Paris. But instead of all croissants and cheese, Clotilde focuses on fresh, colorful, seasonal eats. Now, go check out her blog [ChocolateandZucchini.com], then come back for the exciting news…
Now for the exciting news: Clotilde has come out with a NEW cookbook: The French Market Cookbook, a veg-centric collection of recipes inspired by the bright, vibrant produce of the seasons. I, of course, flipped straight to the "Fall" section and found plenty of autumn food-spiration: Butternut and Celery Root Soup (the celery root gives it a major flavor boost), Mushrooms Stuffed with Plums and Hazelnuts (salty and sweet!), Apple and Salted Caramel Sauce (yummmm) and Pear and Chestnut Cake (made with chestnut flour!). And that's just one season. All 90 recipes are a serious celebration of food that'll inspire a year's worth of healthy cooking and eating.
And if you're not already salivating in delight, you will be with this recipe: Roasted Roots with Gribiche Sauce, a healthier and tastier version of French fries. And who needs ketchup when you have Gribiche Sauce, an herby mayo that equals happy dipping. Dig in!

Roasted Roots with Gribiche Sauce
Racines rôties, sauce gribiche
With the advent of fall comes the gorgeous family of root vegetables: carrots and potatoes, yes, but also beets, parsnips, rutabaga, parsley root, Jerusalem artichokes, celery root—all of them sweet and complex, their flavors subtle, and their flesh oh-so-satisfying. A good roasting in the oven is the most efficient—and effortless—way to bring out the above qualities. All that's required is a nice colorful medley of varieties, cut into even-size pieces, and tossed together with oil and spices. In a little under an hour, the chunks are appetizingly browned and caramelized around the edges and they're ready to be enjoyed like the fall treat that they are, with or without a sauce. I recommend Gribiche Sauce (recipe follows) or the simpler Herbed Tahini Sauce.
Serves 4 to 6
4 teaspoons olive oil for cooking, plus more for the pan
4½ pounds / 2 kg mixed root vegetables
1½ teaspoons fine sea salt
1½ teaspoon cumin seeds
¼ teaspoon cayenne pepper, or more to taste
Freshly ground black pepper
1. Preheat the oven to 400°F. / 200°C. and oil a rimmed baking sheet.
2. Trim and peel the root vegetables as needed; I usually leave the skin on potatoes (but brush them well) and young carrots. Cut the vegetables into sticks, about ¾ inch / 2 cm thick and 3 inches / 8 cm long. Depending on the initial shape of the vegetables, you won't get perfect sticks; just make the pieces uniform in thickness, so they'll cook at the same rate.
3. Transfer to the baking sheet, drizzle with the olive oil, and sprinkle with the salt, cumin, cayenne, and black pepper. Flip and stir the vegetables until evenly coated. Spread the vegetables on the baking sheet so they're more or less in a single layer; they shouldn't be too crowded, or they will steam in their collective moisture and won't roast properly. Bake, flipping once or twice, until cooked through and appetizingly browned, 40 to 50 minutes.
4. Serve immediately.

Gribiche Sauce
Sauce gribiche
Makes 3⁄4 cup / 180 ml
1 large organic egg, hard-boiled, peeled
1½ teaspoons strong
Dijon mustard
1⁄8 teaspoon fine sea salt
1⁄3 cup / 80 ml neutral-tasting oil, such as grapeseed or safflower
2 tablespoons / 30 ml extra-virgin olive oil
1 teaspoon white wine vinegar or cider vinegar (optional)
1 cup / 20 g fresh herb leaves (such as a mix of parsley, tarragon, chervil, and dill)
2 tablespoons capers, drained and finely chopped
1 tablespoon finely chopped cornichons (optional)
1. Bring all the ingredients to room temperature before you begin.
2. Set a medium bowl on a dampened kitchen towel on the counter to keep it steady.
3. Halve the hard-boiled egg and separate the white from the yolk. Push the yolk through a sieve into the bowl (alternatively, mash it to a very fine paste with a fork). Mix in the mustard and salt until completely smooth.
4. Measure both oils into a measuring cup with a pouring spout. Pour it into the bowl a few drops at a time at first, whisking constantly to allow the oil to form an emulsion with the other ingredients. Whisk with your dominant hand and pour the oil with the other; the bowl should not move, thanks to the dampened towel.
5. When the mixture becomes creamy, you can start pouring the oil in a very thin drizzle, whisking all the while. When all the oil has been added, the mayonnaise should form peaks. If the sauce seems stiff, whisk in the vinegar to loosen.
6. Chop the egg white finely. Fold the egg white, herbs, capers, and cornichons (if using) into the sauce. Taste and adjust the seasoning. Transfer to a jar with a tight lid, refrigerate, and eat within the next 3 to 4 days.
Note: If pressed for time, make a shortcut gribiche sauce by adding finely chopped capers, cornichons, fresh herbs, and hard-boiled egg white to good-quality store-bought mayonnaise.