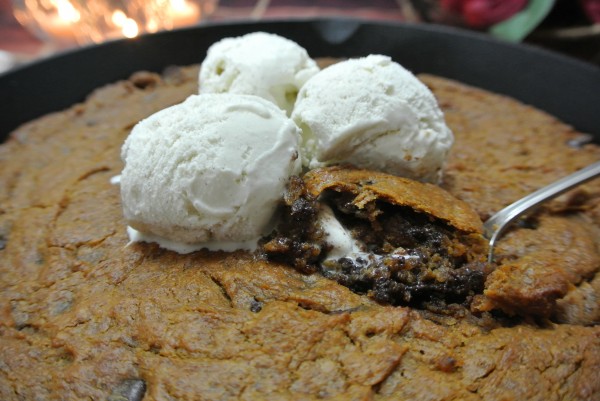 I've written many a magazine article, from celeb profiles to exotic travel pieces  (Tahiti, anyone?)—and hands down my fave stories to write are weight loss success stories. I'm always enlightened, excited, impressed, invigorated and inspired—and Chelle Stafford was no exception. I wrote about her weight-loss journey for Oxygen magazine and was blown away by her willpower and zest for life. The mother of 4, who lives right here in Phoenix, dropped 71 pounds and 16 dress sizes in 18 months (holy cow!). Now she has a fab fitness and nutrition website, RecipeForFitness.com, filled with insider tips and to-die-for recipes that just happen to be healthy. Don't believe me, try Chelle's ridiculously delicious skillet cookie recipe. It's like a pumpkin Pizookie, hold the extra pounds.

Pumpkin Peanut Butter Cookie Skillet
INGREDIENTS
1 16-oz Smart Balance Rich Roast Smooth Peanut Butter
1 cup canned pumpkin
2 large egg whites
2 tablespoon pumpkin pie spice
2 packets Stevia
1 teaspoon baking soda
¼ teaspoon sea salt
½ cup 100% pure maple syrup
1 cup semi-sweet or dark chocolate chips
DIRECTIONS
1. Preheat oven to 350° F.
2. In a large bowl, with a hand mixer, blend peanut butter, pumpkin and egg whites until creamy. Add pumpkin pie spice, stevia, salt and baking soda and blend until all ingredients are thoroughly combined. 3. Add maple syrup and mix well. With a wooden spoon, mix chocolate chips into the batter.
4. Spread batter into a seasoned (lightly oiled) 10-inch cast iron skillet*
5. Bake 35 minutes or until edges become golden and center is mostly firm (not jiggly). This cookie should be a bit gooey in the middle.
6. Let cool 2-5 minutes. Serve warm.
*If you don't have a cast iron skillet, you can use a glass pie dish or baking dish.
YUM!
I'd love to hear from you: What's your favorite healthy dessert recipe?