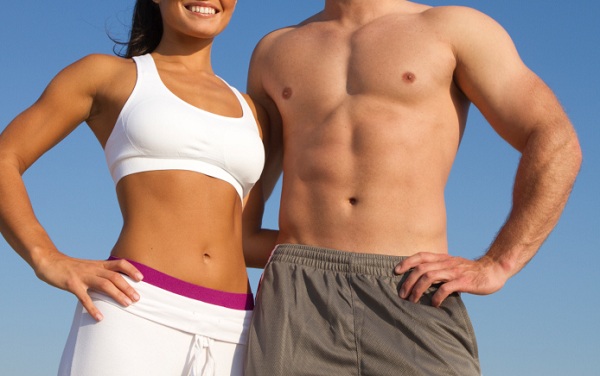 Forget dinner and a movie (bo-ring), active dates burn calories and let you bond in new and exciting ways. Plus they work for both first dates and veteran outings. Here are a few of my fave active dates (with some extra pointers for the guys). Have fun!
Yoga + Vegetarian restaurant
Yoga may not be the most macho of activities, but that's precisely the point. Just for trying it out, she'll automatically peg you as the sweet, sensitive type. That said, just because it's not a contact sport, don't underestimate its athleticism. Yoga builds strength, stamina and flexibility, all of which could come in handy later (wink, wink, nudge, nudge). Since yoga works to detox your body, follow up your mind/body experience with a veggie-centric meal and drink lots of water. (If you're a newbie to yoga, don't start with an advanced class.)
Itinerary: Sutra Yoga + Green Restaurant
Try: The Ranchero Salad – bbq "wings" with fresh greens and carrots tossed in their homemade ranch dressing.
Hike + Smoothie
Hiking is a great get-to-know-you date that combines fresh air, exercise and stunning scenery. That said, there are a few things you should keep in mind, starting with when to hike: Avoid peak sun hours (heat stroke is not sexy) and dusk (yes, sunset is romantic, but scrambling down in the dark is not). To score extra points, pack a cooler full of snacks (energy bars, trail mix, apples) and ice cold beverages. Not only will a snack potentially save her from cramping (hiking on an empty stomach can cause cramps, dizziness and nausea), she'll appreciate your thoughtfulness.
Itinerary: Hike Camelback + D'lish
Try: The Breakfast Buzz, a protein-packed smoothie made with espresso, non-fat milk, peanut butter, banana and chocolate blended with ice. Plus post-exercise protein helps with muscle recovery.
Paddle + Sushi
What could be more romantic than paddling through the open water with your date. Trust me, she'll appreciate the post-card moment. Be sure to pick a scenic locale that's not too rough and tumble (rolling the kayak will quickly kill the romance… and your chances). Continue the nautical theme at a sushi restaurant. Healthy choices: veggie roll, tuna roll, salmon and avocado roll. Don't forget: Quick-dry clothing for the kayak; a change of clothing for afterwards.
Itinerary: Kayak or SUP at Tempe Town Lake + Ra Sushi
(kayaks, standup paddleboards and pedal boats are available for rent)
Try: Salmon Asparagus Roll – Kani kama crab mix, cucumber & asparagus rolled & topped with salmon.