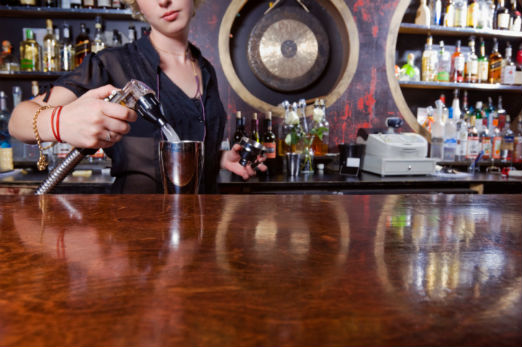 by: Hannah Alley
How do you define a dive? This question is a passionate topic that curates much debate since everyone has a different tolerance when it comes to this term. I've fished around to ask the locals their definition and turned to the trusty Wikipedia as my backbone.
Here's what this bastion of knowledge has to say about Dives, a dive bar is a type of bar or pub that generally has a relaxed and informal atmosphere – they are often referred to by local residents as 'neighborhood bars,' where people in the neighborhood gather to drink and socialize.
For a visual, remember the basement that Fight Club started in? If you've seen the movie, that was a dive.
Locals' definition prove to be widely diverse. Some stress the importance of a stiff, cheap drink and a jukebox that caters to the classics while others stick to the notion that a dive sit in a seedy neighborhood with an unusable bathroom and questionable folk that slum at all hours of the day and night. I, myself, seek a solid selection of local brews served with a deal, varied music selection on the jukebox and of course, buck hunter.
What else? Can a dive offer live music and food? Can the bartenders also be Mixologists? Times, they are a-changing and so must the way we label.
I think the consensus is that a dive bar doesn't need to have a floor layered with filth, be littered with empty peanut shells or fester a heady aroma of stale beer and man sweat to qualify a dive. It does, however, need to be void of any pretension and stay true to a few traditional key dive expectations.
These must-have requirements include:
At least one domestic beer
A least one beer for under $6.50
No dress code. No exception.
Tv or Music device required (not necessarily operational).
Less than 25 employees
Bar seating (bonus points for pleather).
There are different strokes for different folks so regardless your definition, If you can't seem to escape the trendy bars and restaurants that saturate the valley and are craving a neighborhood standby that is dripping with genuine character, here are some solid options. These dives range from your sketchy hole-in-the-wall to diamonds hidden in the rough.
Buried deep in the Tempe pocket, this is a low-key, laid back venue with a fantastic outdoor stage and plenty of place to sit and mingle. It suits those who wish to fall into a great Saturday night or drown your day in a couple post-work cocktails. This is a trusty dive, true to the traditional meaning – there's nothing hip or trendy about this place.
Two live bands playing both inside and out
Dirt-cheap drinks from a decently friendly staff
Pool table
Bar Stools
An old rustic home recreated into a British Public Bar nestled in the Heritage Square neighborhood of downtown Phoenix. On the outside there's vines that hang from the metalwork and flowerpots that layer the porch's perimeter. This cozy home-turned-pub is the perfect watering hole for hipsters and local Politicians alike. Slanging your typical bar food and giving some English flavor with the beer selection, this is my pick for a pre-and-post dinner drink or Sunday afternoon companion. Note: If the first letter of your last name is written on the chalkboard, you're enjoying 25 cent drinks all night. Bonus!
Billiards Room
Handful of beers on tap
Barstools, high tops, patio seating and low tops.
Three room, wrap-around bar
My advice: Come during industry night (Tuesday and Thursday): $2 well drinks, $3 drafts, half off appetizers and free pool. Otherwise, cozy up with an import beer and enjoy your company on the patio overlooking the quaint neighborhood that is Heritage Square.
This seedy little joint that sits comfortably in the heart of Uptown and is (arguably) the best live music venue in Phoenix. Once strictly a jazz and blues joint, RR has opened its doors to a more varied crowd. The dive has been around for over 20 years so don't expect to be welcomed with the smell of fresh flowers but rather stale beer and who-knows-what-that-is stains. I call it character. Besides the thick coat of history smeared throughout the venue, there's a handful of beers on tap, $2.50 PBRs and a 100% chance of rubbing elbows with the acts of the night. (Mumford and Sons played here five months before winning a Grammy).
My advice: Go online and find a show that peaks your interest. When you go, ask for "Mona." She's the heart and soul of that place, and will tell you anything you want to know. You'll walk away from that conversation feeling like family.
Now, including this dive is purely bias. As a Packer fan residing in Phoenix, I always feel at home when surrounded by fellow Sconnies. Enter stage right, Casey Jones Bar & Grill. This joint is your perfect Sunday morning, Monday night Football spot to throw back a few cold beers and dive into some wings (they have wet-naps). The TVs are slightly (very) outdated, but that's the beauty of a dive. If you go for breakfast, order a Breakfast Pancake (shot) with a side order of bacon. It's the Sconnie breakfast of champions.
Little Woody is in transformation from neighborhood dive to Hipster hangout. Despite, fencing the "dive" title, this is still my favorite Acadian hideaway (that's not so hidden anymore). Like any good dive, you enter through the back. Check. The only indicator that this place exists is a fluorescent owl out front that glows ominously in and out. Upon entering, that creepy foreboding feeling will subside. You'll notice the rustic cabin-like decor with ubiquitous owls littering the walls. The first room you see is a quaint space with bar stools lining the wood-paneled, red-glowing bar top and bench seats hidden with board games and jenga. The back room, however, is an adult Disneyland with skee ball and shuffleboard as the main attractions. They have a humble bar staff capable of perfectly executing the staples but also willing to explore various concoctions.
My advice: Skip this place on the Weekends if you're at all claustrophobic as it tends to clutter quickly. Weeknights nights have a relaxed, speakeasy feel – allowing you to mingle with fellow patrons or move freely through the bar without rubbing up on a stranger. Also, if you're a cheap drunk and looking to put hair on your chest – order the Codger all night: $5 for a can of Old Style & a Shot of Old Granddad. Score. If you get hungry, cozy up with their tomato soup and grilled cheese sandwich. Yum.
The Dilly Dally Lounge – has Buck Hunter.
This is the antithesis of the Scottsdale hype but don't let the outside intimidate you. This somewhat-sketchy-but-cozy, wood-paneled bar is void of any pretensions, stuck in a 70s decor and caters to the regulars. And by regulars, I mean mostly 40 – 50 year-old-men who are generally friendly.
This is not the place to order anything sophisticated but the Vodka is poured heavy and the beer is cold. Windowless and flooded with cheap drinks, shuffleboard, pool and a jukebox makes this the perfect joint to guiltlessly day-drink. When you check for yourself, ask Robert M. for the Dilly Dally "Punch." It delivers more than just inebriation.
Great for watching the game
Pleather barstools
Buck Hunter
My advice: Start at Shady's until you feel comfortable enough to mosey into The Dilly Dally Lounge for some Buck Hunter.
Check your ego at the door because as the Casablanca of Phoenix, just about anyone is liable to walk in. Call it a dive or describe it as a swanky 60's basement with the black pleather booths, low ceilings and wooden bar with a Formica top. Either way, it's a gem. With a slight hipster vibe, awesome movies overhead and a cash bar – this is a come-as-you-are type establishment that serves a mean Manhattan as the Pixies serenade us permanently grinning customers through the jukebox.
Vast beer selection
Retro cocktails
Eclectic jukebox
Pool Tables
Food Truck in the parking lot
Few bars have the ability to make you feel like a local the moment you enter. Here's an oldie but goodie that often goes unnoticed amongst the hype of Old Town. Some may say that the décor is tacky but majority will rave the overabundance of holiday lights that overwhelm the otherwise quaint bar is a signature look. The outdoor patio is spacious and the drinks are dirt cheap. You really can't beat $3.50 well drinks and $6 pitchers, can you? Ask for Drew and order a "winesky."
My advice: Check out the Christmas lights from November through February and hit up the free BBQ every Giants home game during Spring Training and almost every Sunday all year.
A dive to its core, it's dirty, rundown and looks like you could meet a smuggler to take you to Alderaan. With black and white checkered floors, grungy ambience and off the wall beers, this indie-bar-of-the-second caters to a rowdy crowd. Like a true dive, it's rude to ask questions pertaining to the bathroom issue, its best just to hold it. The jukebox was blaring CCR when I walked in which is an automatic bonus and only continued impress. Word from the bartender is that they have some great local and national acts that pass through here to play on select nights. I'd be down to check that out.
My advice: Don't order anything sophisticated. PBR flows like water, so that's a safe (and cheap) choice. If you're looking for something more, hit up the liquor store next door. And heads up, cash only.
The name of this biker dive really captures the motif of this joint. If you want to know about the quality of food and drink – it really doesn't matter since you'll be too busy looking through a darkened kaleidoscope of debauchery that includes women dancing on top the bars, wet t-shirt contests and bras flinging across the bar. Rock and country music is all you'll ever hear and damn good fun is all you'll have. Think Coyote ugly meets Kid Rock meets 90s mullets meets Bikers who drink wild turkey.
My advice: Pick up a few friends on a night you're just looking for cheap entertainment – order a couple rounds of whiskey and see what happens.
Put on your cowboy boots and loosen your belts for some backyard barbeque, ice cold beers and so much honky-tonk that you'll think you're in a George Strait music video. What you spend in gas money, you make up in cheap drink prices and boot scootin' boogie-ing. Making the trip to escape the Scottsdale scene is like taking a time portal machine to west Texas in the 80s. It's a trip.
Outdoor fire pit
Indoor and outdoor bars
Live bull riding
Pool tables and arcade games
Bottled beer for around $3
My advice: Round up some friends on a Wednesday or Friday nights to catch the live bull riding. Don't forget your dancing shoes, best if in the form of cowboy boots.
And there you have it, folks. Start diving, it's good for your soul … and your wallet.
Follow Hannah on Twitter @Hannah_Lynette