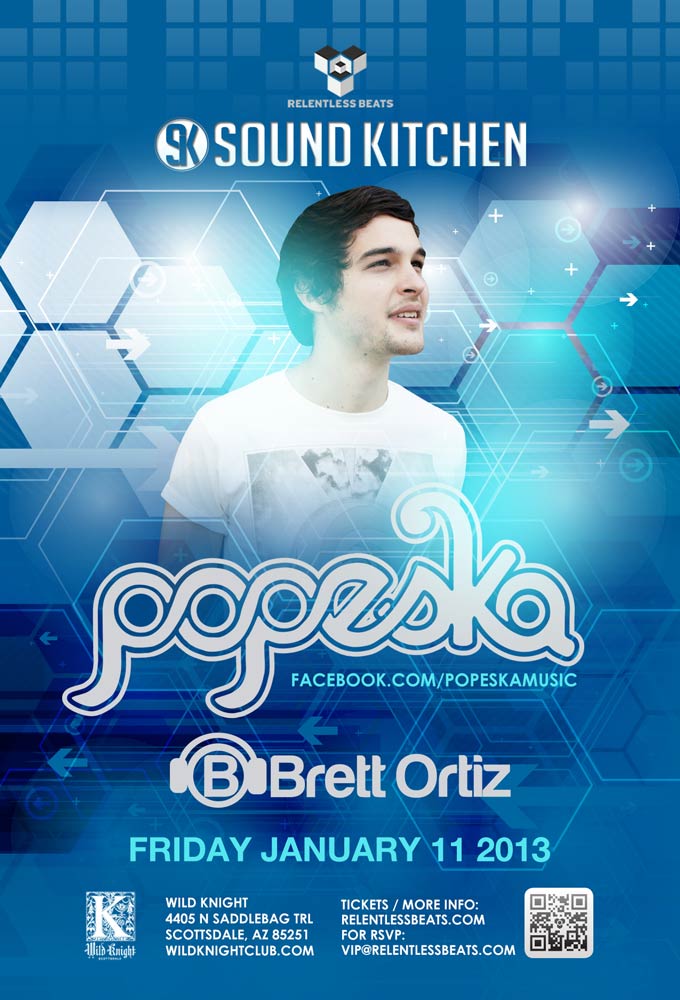 Relentless Beats presents Sound Kitchen featuring Popeska at Wild Knight in Old Town Scottsdale on Friday, January 11, 2013 with special guest Brett Ortiz. They're kicking off 2013 with a BRAND NEW look for Sound Kitchen!
And best of all, this show is FREE with GUESTLIST.
From his (recent) beginnings as a dorm-room producer at Georgia Tech, uploading tracks to Soundcloud as a hobby, to being the first signing to Wolfgang Gartner's Kindergarten Records, Ralf Popescu never imagined that electronic music would be his career. Quickly attracting listeners on a daily basis, Popeska's steady output of progressive and sonically addicting material has set the stage for his earned inclusion on the upcoming "Love & War" tour featuring Wolfgang Gartner and Pierce Fulton.
Popeska's forthcoming debut EP entitled "Karmameter", will undoubtedly be a welcome addition to any electronic music aficionado's collection. It's also sure to bring in fans from other genres, as Ralf draws inspiration from sources such as folk, classical and jazz to make his brand stand out in a cutthroat era of competition where anyone with a computer can try to pass themselves off as a producer.
Sign up for the guestlist HERE.
For table reservations email vip@relentlessbeats.com.
Wild Knight Club
4405 North Saddlebag Trail
Scottsdale, AZ
Connect
www.twitter.com/popeskamusic
www.facebook.com/popeskamusic