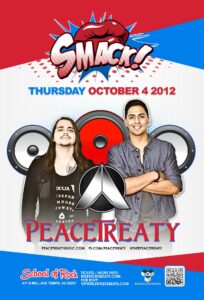 WHEN: Thursday October 4th 2012
WHERE: School of Rock | 411 S. Mill Ave., Tempe, AZ 85281
INFO:
FREE ENTRY WITH RSVP ON www.Relentlessbeats.com/peacetreaty-smack/ . CHECK OUT WITH YOUR FREE TICKET ABOVE.
Relentless Beats and Wild Knight present SMACK! featuring PeaceTreaty at School of Rock on Mill Ave in Tempe on Thursday, October 4, 2012.
Bringing people together through music. It's a simple concept yet incredibly powerful when executed correctly and that's exactly what PeaceTreaty has accomplished with their high-energy electro house productions and live performances. In a world filled with so much pain, struggling and injustice, the dancefloor is one of the few places left where people can truly let go of their worries and PeaceTreaty is providing a soundtrack for just that.
Join Relentless Beats text list by texting VIP to (602) 300-1556. Email vip@relentlessbeats.com for table reservations.