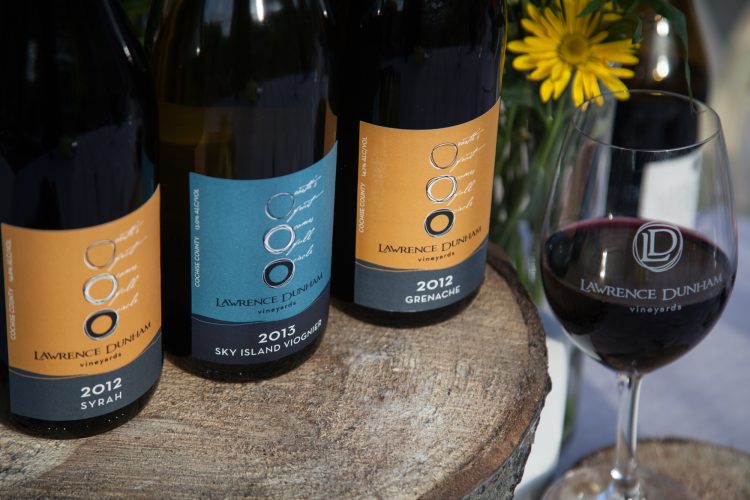 Welcome Arizona's wine harvesting season by enjoying local wine from LDV Winery. While the vineyard itself is located in Southeast Arizona in the Chiricahua Mountain foothills, its wine gallery is conveniently located in Downtown Scottsdale where vino fans can enjoy tastings and purchase bottles of the delicious varietals. In fact, you may have already tasted LDV wines at local hot spots like AJ's, Pizzeria Bianco or Beckett's Table. We had the chance to ask LDV owners, Curt Dunham and Peggy Fiandaca, about the vineyard, its history and what guests can expect from this upcoming seasons' Vineyard to Table Supper Club Series.
AFM: How did your passion for winemaking begin?
LDV: We were wine collectors for over 25 years. All vacations were to wine regions around the world to meet with winemakers and traipse through vineyards. Our goal was simply to fill our 2,000-bottle wine cellar with unique, exquisite wines from small producers. Looking at turning 50 at the time, we were searching for our next chapter in life and found the perfect spot to plant grapes and produce wine. We learned a lot, drank a lot, and it was time for a new adventure. So, we jumped into the deep end!
AFM: What made you choose the LDV Winery location?
LDV: There were 5 criteria we were looking for in the perfect spot.
High altitude mountain land because we love wine produced from grapes grown at high altitudes. LDV is at 5,000 feet in the foothills of the Chiricahua Mountains which are at 10,000 feet.
Quality & abundant water supply.
Volcanic soils. The Chiricahua Mountain Caldera erupted millions of years ago and dropped rich volcanic soils and rhyolite granite on the property.
Good air and water drainage. The vineyard has very porous and rocky soil that drains to Ash Creek that runs through the property. The creek also drains cool air into the vineyard from the mountain in the summer and funnels cold air by us in the winter and spring.
There was no commercial agriculture on or near the vineyard site. We wanted a pristine property without any residual chemicals.
AFM: In regards to taste, what sets apart southeastern Arizona wine?
LDV: The high altitude—4,200 to over 5,000 feet—and soil composition of Southeast Arizona creates a distinctive wine. At LDV Winery, the rich and complex wines are a direct reflection of this special place. The UV rays at our altitude of 5,000 feet allow us to produce big, fruity wines that many wine drinkers really enjoy and stand up to our southwestern cuisine.
AFM: Is there a most popular or signature LDV wine that can't be missed?
LDV: We produce wines that are meant to be paired with food. Our goal was to be able to host a ten-course meal and serve LDV wines that pair perfectly with every course. However, if you had to choose one – 2012 "The Signature" Petite Sirah. The 100% Petite Sirah aged 33 months in American oak is perfect with a mesquite grilled prime rib or a chocolate mousse dessert. It is smooth, complex, and luscious and leaves an impression.
AFM: What types of wine does LDV produce?
LDV: LDV Winery produces wonderful Rhone-varietal wines (Viognier, Grenache, Syrah, and Petite Sirah). Our winemaking style is to produce single varietal wines that are a direct reflection of LDV's vineyard.
AFM: Where can LDV wines be purchased?
LDV: We brought a "piece of the vineyard" to downtown Scottsdale when we opened the LDV Wine Gallery at 6951 East First Street. It is the perfect place to taste, drink, and purchase our wines. With its two beautiful, tree-shaded patios, it is a terrific venue for private or semi-private events. The LDV Sky Islander Wine Club is free to join and offers three different levels to choose from, each with different discounts and privileges. You can order online or call us directly. LDV can ship to 38 states. Some of the AJ's Fine Food stores carry LDV wines and they are available at terrific local restaurants like Beckett's Table and Southern Rail and at resorts like the Omni Montelucia.
AFM: What can guests expect this fall from your popular Vineyard to Table Supper club series?
LDV: Wonderful wine, great food, terrific conversation, and fun! The 3-course menu prepared by us and expertly paired with LDV Wines provide us an opportunity to share stories from the vineyard and winery. Every menu is different and the people around the vineyard table change monthly making conversations lively and fun.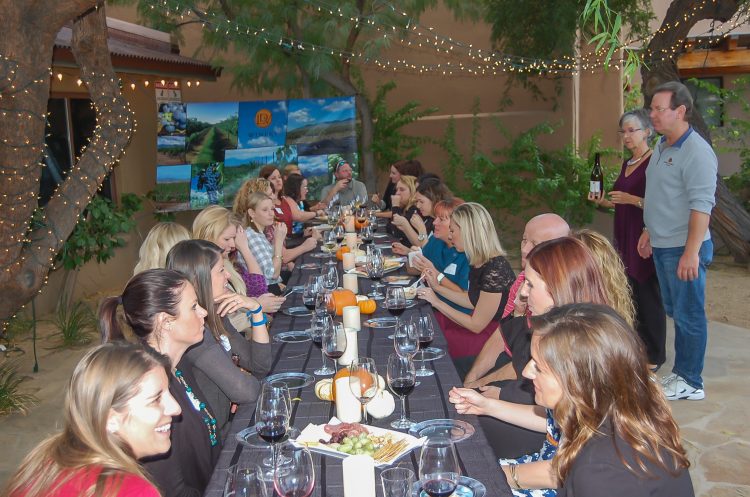 The next Vineyard to Table Supper Club is Tuesday, September 12, 6:00 – 8:30 p.m.
Limited to the first 20 guests that register by calling 602-320-1485 or emailing info@LDVWinery.com.
Mark your calendar for the upcoming LDV Winery Harvest Festival: Saturday October 28
Early bird registration is open HERE.
For more information, visit: ldvwinery.com