Like any other fully committed fashionista I am all for compromising my tootsies for a killer shoe. Of course my commitment only lasts for 6 hours max until I'm leaving the party and limping to my car (oh what we must look like… I'm positive men secretly or maybe not so secretly laugh at us silly women). Of course, time and time again a comfy but still stylish alternative tries to come on the scene, but never quite compares to your favorite strappies. And if we are being honest with ourselves (which we always should be), even our beloved flats and sandals are no spa day for our feet.
So then what is this post about? Well, I've decided to skip trying to scour the interwebs, malls, and boutiques for those comfy but not-so-stylish shoes and go straight to the comfy with style…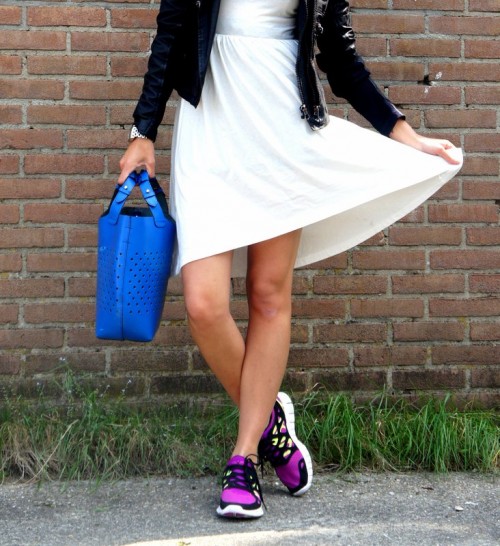 PHoto: bloglovin.com
We've talked about these lovelies on Style Files before, but we can't get enough of them and neither can everyone else. Whether you're a workout fanatic or not Nike Frees are a must-have. The lightweight materials allow for a sleek silhouette (they also make your feet look very petite). The best part is that they come in fabulous colors like neon blue and pink, create your own custom color scheme, or go classic with white and black.

photo:keds.com
Keds go way back, way, way back… We are talking 1916. These canvas sneakers come in a variety of styles from slip-ons to boots (more like high tops), but I am a sucker for The Original Champions. You can wear them with everything from a summer dress to jeans. And they come in classic colors like navy, red, black, and white making them the perfect basic shoes. If you need more excitement you can also get florals, dots, and even stars!
People usually roll their eyes at me when I say that my Coach shoes are my favorite shoes to work in, but I'm serious. In fact, just this weekend I wore my Coach slip-on sneakers to move and my feet thanked me for it. I favor the classic Barrett style in Khaki/Chestnut.
I proclaimed these to be a no-no on Twitter the other day, but the thing about fashion is that everyone has their own style and so these may very well be a yes for you. I present to you the wedge sneaker. You can find a pair from just about any designer these days: Marc Jacobs, Chloe (which aren't too bad), and Giuseppe Zanotti and more. Celebrities like Beyoncé and Kate Bosworth have been captured by photogs wearing the trendy shoes.
By Kristianne Young