I've been on quite the shoe binge lately. And by binge I mean periodically posting links to fabulous footwear on my facebook page. Because if there's one thing I have noticed this season, it's there's something utterly fabulous going on when it comes to shoes.
Caged sandals, open-toe booties, laceup styles and tons of straps are making their mark for spring 2009. And I seriously can't get enough. It's like a variation of last year's gladiator sandal trend, but far sexier, edgier and almost dominatrixy. They're probably a bit aggressive for some, but I love it when a great pair of shoes can be the center of attention for your outfit. And it's that one purchase that's a constant feel good: whether you lose or gain weight, shoes will always fit!
Let's indulge a little on a possibly otherwise drab Thursday and take a look at some of my open-toe caged bootie obsessions.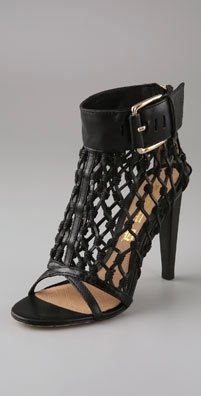 Starting things off on the right foot with these L.A.M.B open-toe knotted booties from shopbop. I'm in love.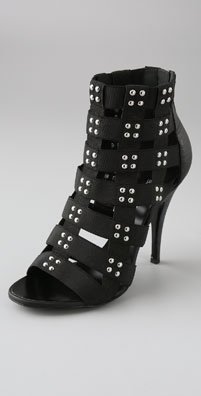 These Giuseppe Zanotti for Balmain sandals are just way cool. I'm digging the studded look, very rocker-chic. Also at shopbop.com.
I know, it's supposed to be a strappy-type only shoe post but these are so cool, I just couldn't resist throwing them in the mix. They also come with a huge oversize bow. Available at shopbop.com.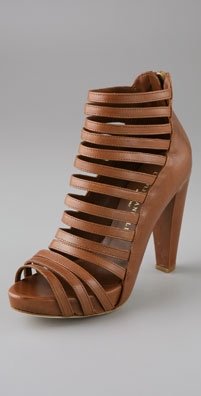 Back to strappy, Loeffler Randall does a great look here with these strappy open-toe booties. They're also available in black and snakeskin at shopbop.com.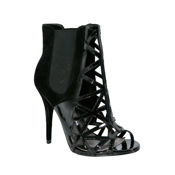 This Steve Madden "Sallina" open-toe caged bootie is super sexy too. Had I seen these in person they'd be sitting in my closet right now.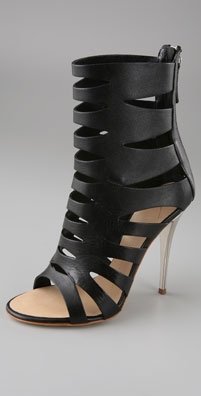 If you've seen them before, it's because they ended up on my facebook already because I'm totally OBSESSED. Giuseppe Zanotti zipcut bootie. Amazing.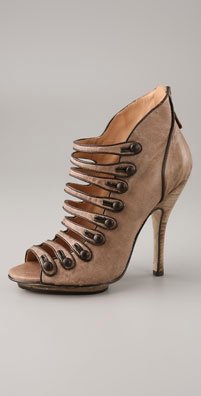 I'm posting these L.A.M.B. multistrap booties for two reasons: 1. They're awesome. 2. I can't believe what I'm looking at because I tried on this exact same shoe at Bakers the other day. And though usually it would never deter me, they actually were too uncomfortable for me to make the purchase. I suspect being L.A.M.B that these would be much better. But just a hint, they're exact replicas.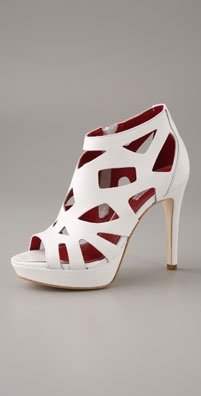 I could really post shoes forever and ever, but to leave something to blog about in the future, I'll end this post sweetly with this Pour la Victoire "Bianca" cutout bootie I've been watching for awhile now on shopbop.com.