In case you haven't noticed yet there is a whole lotta fashion going on around here. Tonight is the third annual Fashion's Night Out and retailers throughout the valley will be joining in the festivities. AFM blogs have been covering the events here so just in case you don't have your plans set in stone you can find plenty of details to plan your evening.
Events are happening at Scottsdale Fashion Square with over 60 stores taking part including Ted Baker, BCBG, Betsy Johnson and loads more. Kierland Commons is also celebrating at Lather and 7 for All Mankind and plenty of others.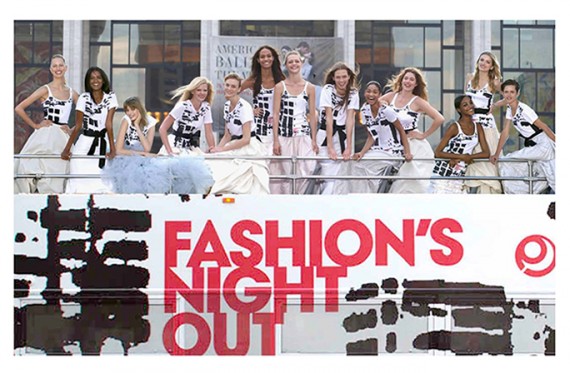 Or stop by Neiman Marcus To enjoy the fashion shows and trunk shows highlighting the best looks of the season, like a Billy Cotton personal appearance in the gift galleries where he will be showing off some of his marvelous tabletop creations. Then a Bessa Trunk show in the Precious Jewels Salon and mini makeovers plus gifts with purchases in the Cosmetic department. And don't miss the Valley Youth theater performing selections from Hairspray or Ken Howie showing his Phoenix Art Museum Costume collection of images. Of course there will be plenty of bites from Modern Steak.
Then swing by Saks Avenue AFM's FNO fashion partner in crime for plenty of happenings in the beauty, shoe and designer departments. Be sure to check out the cosmetics department where you can enjoy lip print reading, mini manis with Chanel's Holographic nail lacquer and glowing skin tips from Revive skincare. Of course there will be plenty of fall trends modeled by the new faces at The Agency AZ and then you can slip over to the 10022 Shoe department to find your sole mate. Plus a little bit of live blogging in the Stylelist Blogger Lounge.
Of course when Fashion's Night Out begins, New York Fashion Week also kicks off. This year Fashion Week runs from September 8-15 and as usual all fashion eyes will be on Lincoln Center to see the latest and greatest from the worlds most amazing designers.
And even though I had planned on being smack dab in the middle of the action painting faces backstage, alas duty calls here at home with a full roster of photo shoots, but that doesn't mean that I don't have fashion spies standing by to share the scoop.
So over the next seven days keep your eyes on Style Files as we bring you reviews of some of our favorites design lines.
By Diane