Is anyone out there as over the moon about Chanel Resort 2013 as I am? There is really no other brand that can rival the grandeur of a Karl Lagerfeld Chanel runway show. From grand resort settings or laboriously constructed indoor sets there is something to be said for the creativity that abounds.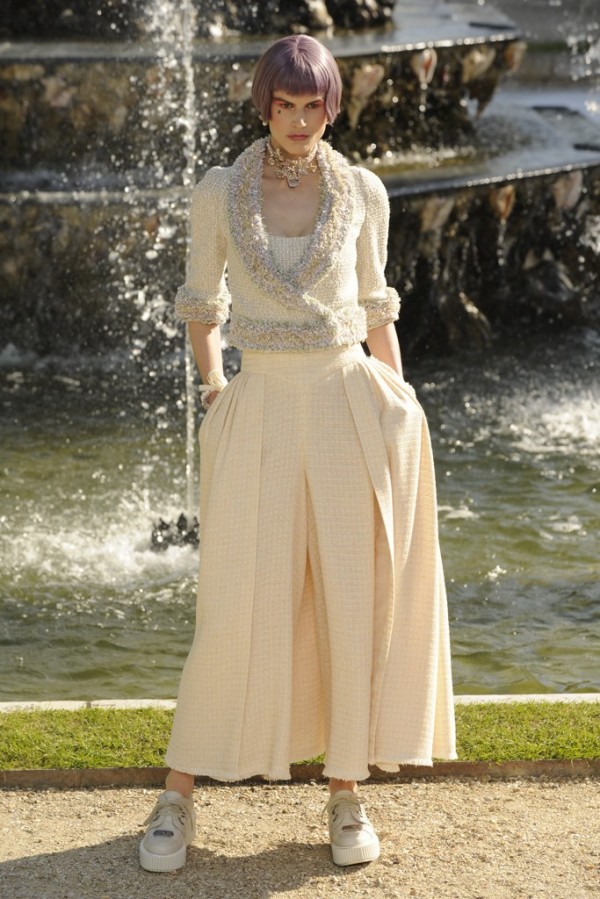 This time located at Versailles Lagerfeld set the tone with a trompe l 'oeil garden theme that seated 400 people. The Resort Collection boasted a rather eclectic range of influences that reminded me of Little Boy Blue, Adam Ant, Marie Antoinette and a bit of Mad Men thrown in.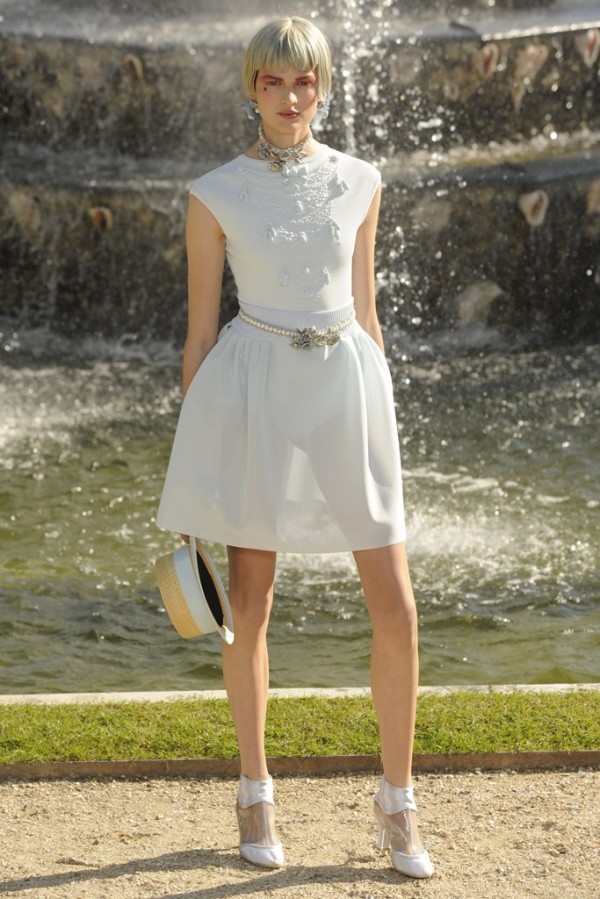 Models stomped in one at a time wearing what I would probably call the most fashionable platform creepers I have ever seen (Creepers being shoes that is… not the stalker kind of creepers on social networking) along with some pretty eye catching blunt bobbed wigs in deep jet black and frothy pastels. The makeup was a ramped up and doll like 80's style complete with the perfect beauty mark.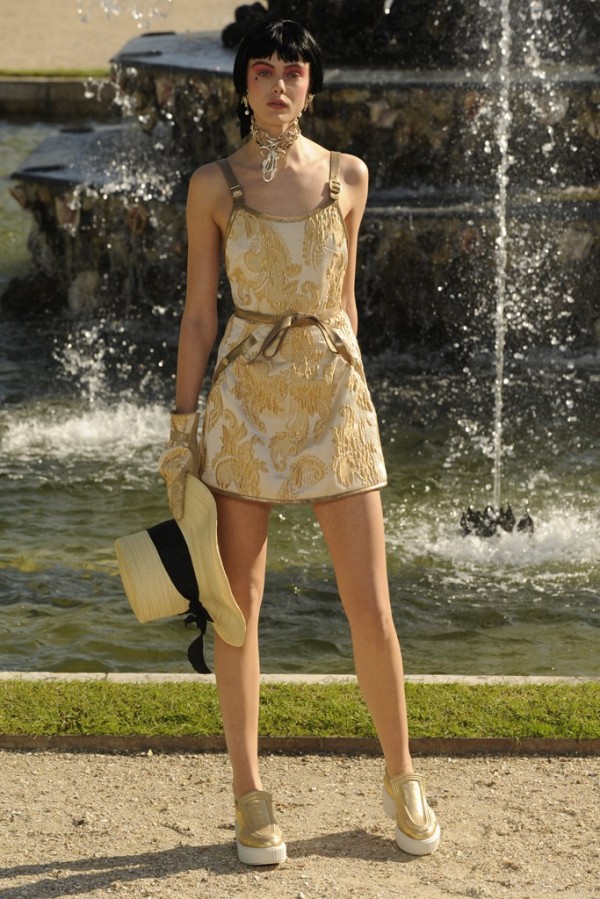 The clothes themselves ran the gamut, some pieces crisp and light others with voluminous, sharp shapes. The roomy bottoms varied from short and swingy skirts, to palazzo pants, French pantaloons and even knickerbockers… yes you heard that right. While the tops ranged from bomber jackets, shoulder pads, filmy blouses that were fitted and fluffy confections that would have been right at home at a palace ball in a different century. The palette danced from sky blue, pale sage, baby pink and shimmery gold with bold pops of purples, reds and of course neutrals in white black and cream.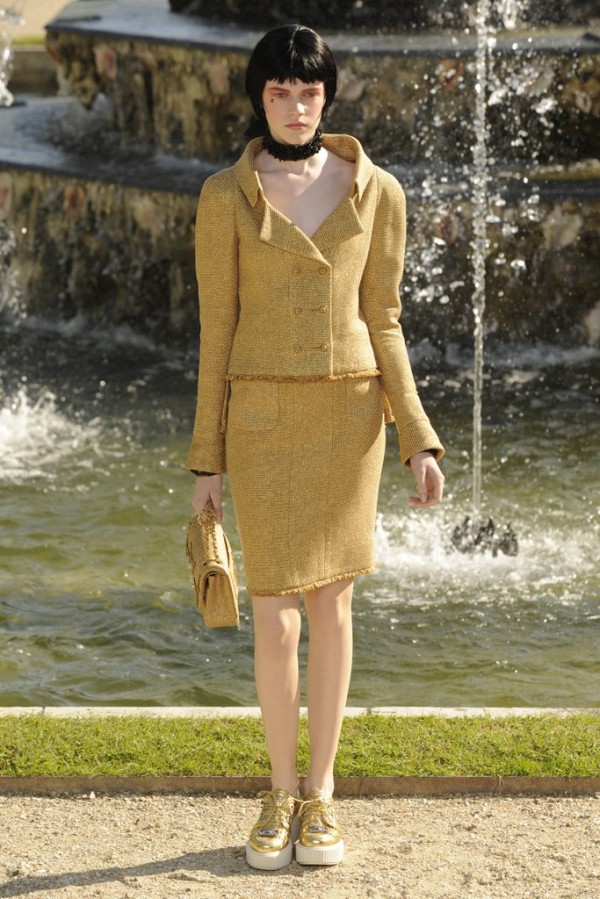 "It's serious revolt," he teased. "It's not at all 18th century. It's very rock. You can hardly recognize the girls." The designer told Women's Wear Daily – cruise is one of six ready-to-wear collections he does for Chanel, as "nothing is more boring than a shop where you have the same thing for six months." "Cruise has become for us one of the most important collections in the boutique," he said, noting that the delivery is seen as vital across all regions.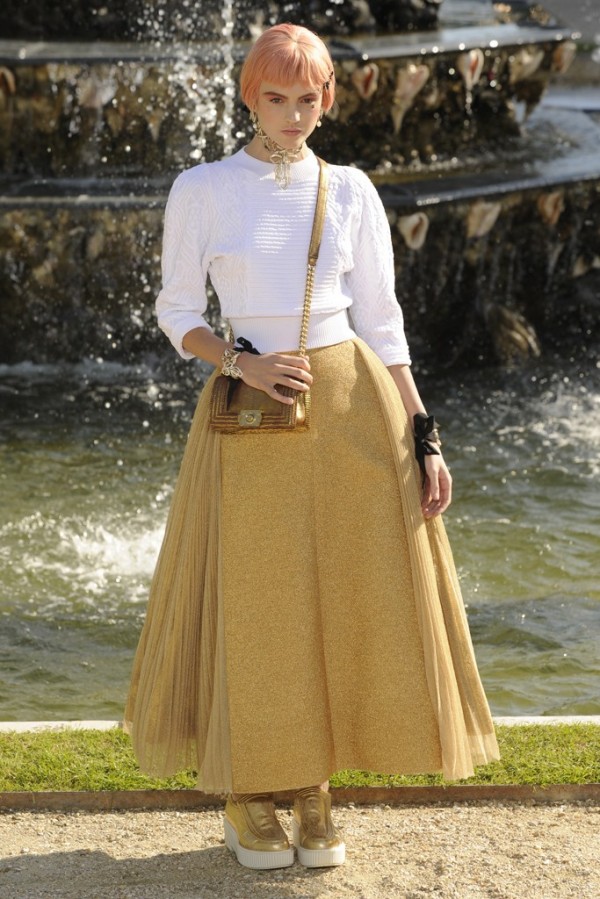 To me this collection seemed particularly young and somewhat out of the box even for Lagerfeld which leads me to wonder if the regular Chanel customer will embrace these looks? Or if perhaps some of these pieces were created to capture the young and fabulous celebrity jet set demographic.
Source: Womens Wear Daily Photos: Womens Wear Daily