A few months ago after the Royal wedding of Prince William and Kate I had the chance to contribute on more than one style forum as to who wore my favorite looks. Interestingly enough one of my favorites landed on several lists of least favorites. Be that as it may, I adored what Victoria Beckham wore… and I thought her Phillip Treacy fascinator was divine. Being an occasionally brow furrowing person myself, I have no issue with Ms Beckhams non= smiling public persona, in fact I find her rather charming. I mean really it's got to be somewhat unnerving to have a husband as gorgeous as hers because no matter how incredible you look, you always have that bit of perfection to live up to.
Now of course Beckham is expecting her fourth child with Mr Perfection (a girl no less) and is working on a new line of dresses Victoria by Victoria Beckham. In contrast to her current line of often curve hugging but sophisticated day and evening dresses, this second line will be chock full of girlish looks. Beckham herself even confesses that her bun in the oven may be influencing her design decisions.
The first collection is due to launch in the Spring of 2012 and priced from $500-$900 boasts feminine silhouettes and more flouncy details. The line inspired by Emily the Strange an edgy cartoon character that is often followed around by her four cats straddles the style line between cute and chic. Whimsical and 60's inspired looks in fresh bright shades dominate the line.
Beckham told WWD "Where I am currently, I like a more modern attitude," Beckham explains. (In her main line, as well, she has in recent seasons introduced alternatives to her signature hyper-curvy shapes.) "Also, it means that I'm opening these designs to women and girls of all different shapes and sizes, people who maybe want something less tight and clingy and structured. It also makes it more comfortable for during the day. You can wear them with a pair of flats or a pair of heels and they look great."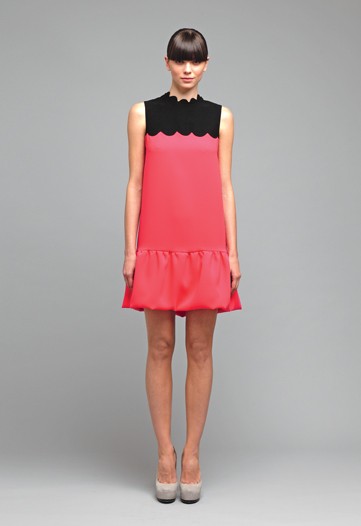 Though a few pieces may retail for as much as $1,300, Beckham stresses the importance of delivering value at every price point. "I take it into account when I'm designing the other line as well. Simply having a pocket — there are repercussions. Even with a handbag that costs thousands and thousands and thousands of pounds, I'm not going crazy. I'm still aware of how much the hardware costs exactly, exactly what the skin costs, how much the lining costs. At no point do I ever say it's one of those one-off showpieces."
Based on the usual demand for Beckham's original line of dresses this new line is expected to exceed twelve million in sales for the first year.