Venerable men's label Suitsupply is expanding its West Coast reach with the opening of a new store at Scottsdale Quarter tomorrow.
Suitsupply is known for making versatile men's suits with impeccable tailoring and a modern aesthetic, all at a lean price point. The company was founded in 2000 by Fokke de Jong, who started the business out of the trunk of his car while he was a law student in Amsterdam. Suitsupply has since expanded to over 40 locations worldwide in such major cities as Milan, London, New York and Chicago.
Suitsupply's new 5,611-square-foot store at Scottsdale Quarter's The Quad will host a showroom chockfull of suits, jackets, pants, shirts, shoes and accessories, in addition to a private shopping room. Customers can also kick back and enjoy an espresso on the outdoor terrace while waiting for alterations by an in-store tailor.
AFM caught up with Nish de Gruiter, vice president of Suitsupply, to find out what Arizona gents can look forward to at the new store, which suit styles and fabrics work best for the dry Arizona heat, and style tips that will have you looking sharp all summer long.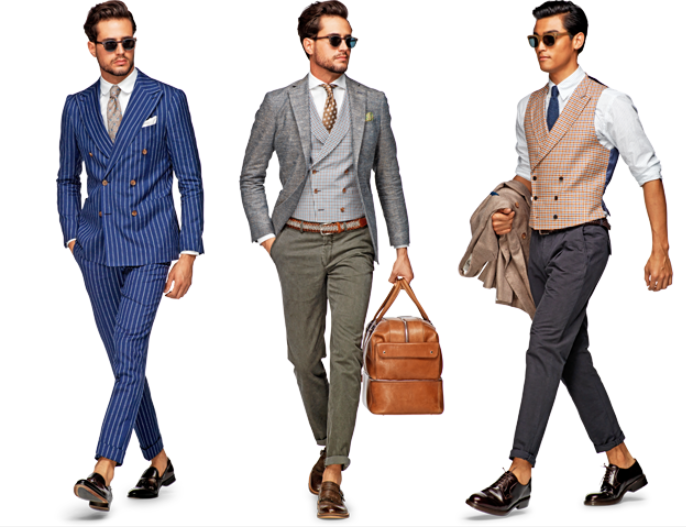 AFM: Please explain the concept behind Suitsupply –
NG: At its core, Suitsupply is a menswear tailor destination. We're not just a place one generally wanders in to. Most men know roughly what type of suit they want, and our job is to create a personalized space in which they can think a bit outside the box when it comes to style.
We're distinguished by, among other things, our fit. Fit is central to what we do; so much so that each store features an in-house tailor to assure every client gets the best possible fit. Everything we do comes from within the company, from design to ad campaigns. The company is vertically integrated, allowing us to offer a superior product within a modest price range. We use only the finest Italian fabrics from renowned Biella region mills like E.Thomas, Loro Piana, Larusmiani, and Vitale Barberis Canonico. Bottom line, we're bringing a new energy into the suit world.
AFM: What can Arizona customers look forward to at Suitsupply?
NG: We offer a full collection of suits, bags, and more casual wear, as well as shoes and accessories. Arizona customers, specifically, can expect lots of light fabrics, like linen, washed cotton, and seersucker that's ideal for the arid climate.
AFM: What suit styles and fabrics are available?
NG: We've got something for everyone. For the ultra-hip, we've got the slim, European-inspired Copenhagen. It's a modern and versatile option that fits comfortably and works in any relaxed occasion. For the conservatively-inclined, we've got more straightforward single-breasted and double-breasted cuts; all, of course, infused with our signature detailing and European tailoring. We've got all that and everything in-between.
AFM: What are the most popular suit styles?
NG: The most popular are the "Havana" and "Sienna" — these are soft constructed suits that are both comfortable to wear and elegant enough for virtually any event. The Sienna tied for first place with Armani in a blind quality test by The Wall Street Journal — a pretty impressive feat seeing as our suit cost about a quarter of what the other suit did.
AFM: Price range?
NG: Between $399 and $999, with Made-to-Measure Personal Tailoring suits running a bit higher.
AFM: Please elaborate on any unique detailing –
NG: All of our suits are made with a canvas interior that gives the jackets their shape. The free-floating canvas is made from cotton infused with fine horsehair. Unlike fused (glued) suits, this method allows a jacket to take on a natural flowing shape and resist becoming deformed and misshapen. Apart from that we have dozens of details, like: functioning buttonholes, handmade pleated shoulder shoulders, boat shaped breast pocket, after dinner split in waistband of the pants.
AFM: Once fitted and ordered, how quickly can a suit be ready?
NG: We can have it ready within 30 minutes if all that's needed are pant alterations. In the rare case that more complex tailoring is required, we can have a suit ready in as little as three days.
AFM: If you're looking for a classic streamlined suit, which style(s) are most popular?
NG: Definitely the Napoli, Sienna and La Spalla. These are timeless designs with updated features—perfect for the office or for any semi-formal event.
AFM: What suit styles and fabrics would work best for the dry Arizona heat?
NG: The Havana and Sienna. We make them in very lightweight Super 140 & Super 150 wool, as well as linen and cotton blends.
AFM: Besides suits, does Suitsupply offer anything else?
NG: We've got everything you need to complete a wardrobe: suits, jackets, pants, socks, ties, hats, shoes, coats, bags, and even travel gear and accessories, from cuff links to wallets.
AFM: Do you have any style tips for dressing for spring-summer? Is there anything new at Suitsupply for the season?
NG: Keep it simple and don't try too hard. We have a good selection of complete new swim trunks and seersucker shorts that work both casual and dressed up with a nice linen jacket.
Suitsupply will open at Scottsdale Quarter at 15037 N. Scottsdale Road, Thursday, May 22.
For more information, please visit us.suitsupply.com.