Fashion Week is all about the clothes and not just the ones on the runway. The most important names in the industry are invited to sit in the most coveted seats in the fashion world each season… they also happen to be some of the most fashionable people in the industry. Buyers, editors, celebrities, models and writers all dress to impress the street style photogs, showcasing their superb style. Here are some of my favorite street style fashions from Paris via Harper's Bazaar and Mr. Newton before we continue with more runway coverage.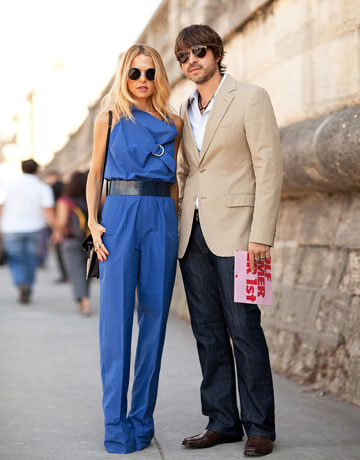 Stylist, designer, super-mom Rachel Zoe and husband Roger Berman looked lovely together—Rachel's blue jumpsuit is casual chic and complements Roger's neutral jacket and jeans.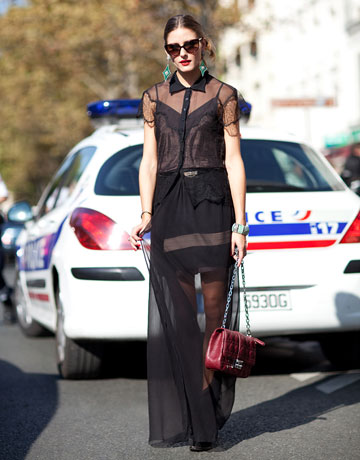 Socialite Olivia Palermo was a bit darker than usual in a sheer black ensemble. Large green earrings and red purse gave the outfit a pop of color.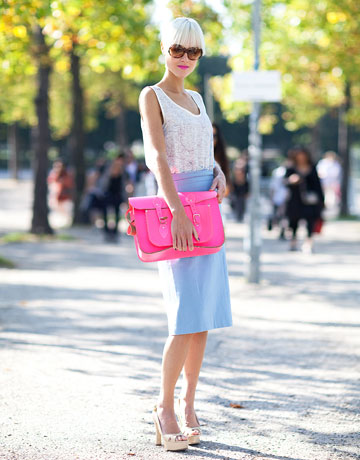 Her accessories were the stars of this outfit show. I need to find a hot pink satchel.
That was fun! Now back to the catwalk… Yesterday I raved about the girly, oceanic theme at Chanel for an entire blog and I am excited to say that other designers also got in on these trends.
Sarah Burton designed a royal and romantic oceanic collection for Alexander McQueen. Feminine skirts with ruffles at the knee started the show, meant to look like jellyfish said Burton; while other dresses imitated coral structure and rolling waves. The line moved from pretty pinks, white and gold belted skirt and blouse combinations to short baby doll dresses much akin to their sleepwear relatives.
As the show continued the collection got darker, stranger, and well, more McQueen. Barnacles crawled up the necks of the models and dresses were accessorized with cage-like body jewelry. The head coverings slowly crept down the faces of the models inevitably making them mysterious and unrecognizable. It was all the drama that McQueen fans have come to expect.
Valentino made ladylike hip again. Chic minimalism and halo braids shouted innocence or perhaps whispered. Neutrals, creamy blush pink, your favorite lipstick red, and powder blue fabrics were created into southwestern elegance. According to style.com Piccioli and Chiuri mentioned Mexico in the early part of the twentieth century as a source of inspiration, "but not so much a geographical place as a state of mind."
Though I adored many of the evening gowns I also appreciated the ease of the plethora of day dresses this collection had to offer.
By Kristianne Young
Runway Photos: style.com