Sometimes when you look at show after show during Fashion Week, pieces that would normally be spectacular can become mundane… I suppose it's a danger of the game. And truth be told, I never want to feel jaded about any collection so sometimes I have to step back and take a break for a few days from all of the fabulousness… then start all over again.
Perhaps part of the problem is a "been there done that" feeling that sits in the back of one's brain once they spend a few decades in the industry… To a newer fashion addict every trend most likely seems new and fresh…. but to a veteran things like "Peplums" only remind me of that wonderful black dress that I used to drag out for every other 80's wedding – size zero..hmm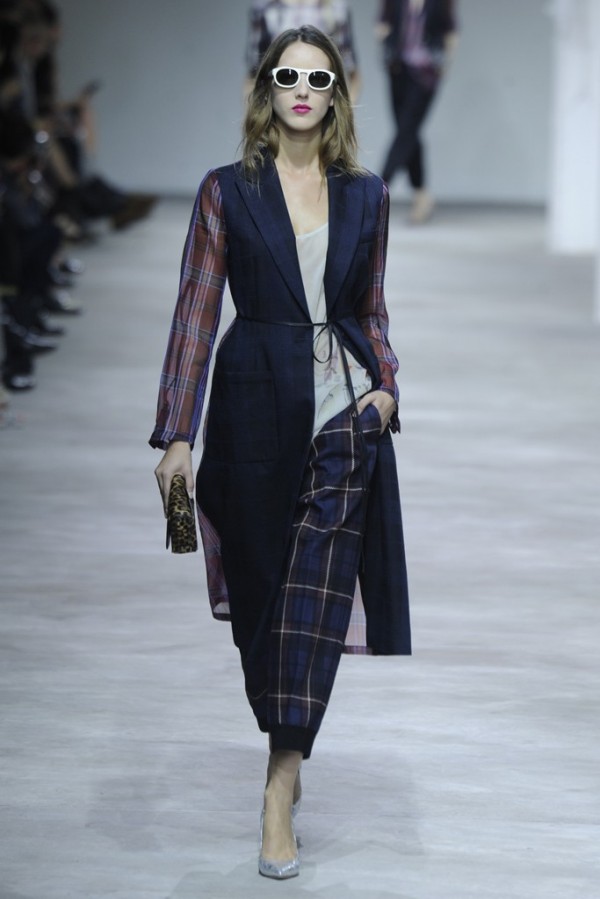 But Dries Van Noten managed to make me sit up and take notice in the most covetous of ways. If you have ever wondered what happened to that grunge girl from the 90's who fell in love with a Park Avenue trust fund kid, this collection answers that question.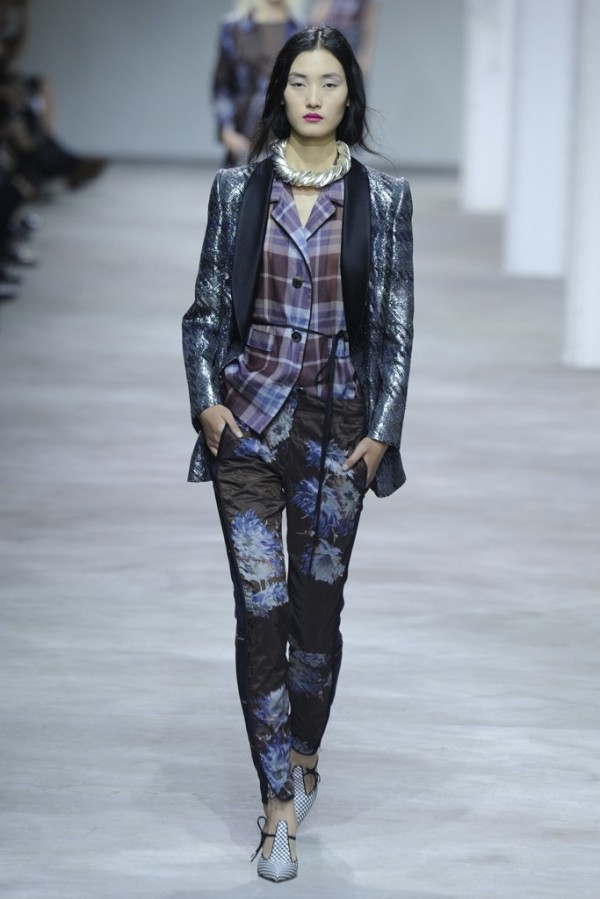 The mix of grunge plaids, with high luxe fabrics and cocktail skirts, jackets and filmy tops just flowed together like they were lifelong friends. These are the kind of outfits a street style blogger can only dream of putting together.
"I wanted to go back to having fun with clothes," the designer said in a preview to WWD. "It's everything that I love. It has that kind of men's wear/women's wear, kind of grungy, spontaneous feel."
Slouchy pajama pants, loose cardigans and easy to wear dresses were all part of the lineup. Each look perfectly layered with a mix mastery of plaids and florals in muted, earthy and neutral tones. Van Noten elevated each and every piece whether boyish or feminine using silk chiffons, crepe de chine, organza, velvet or denim.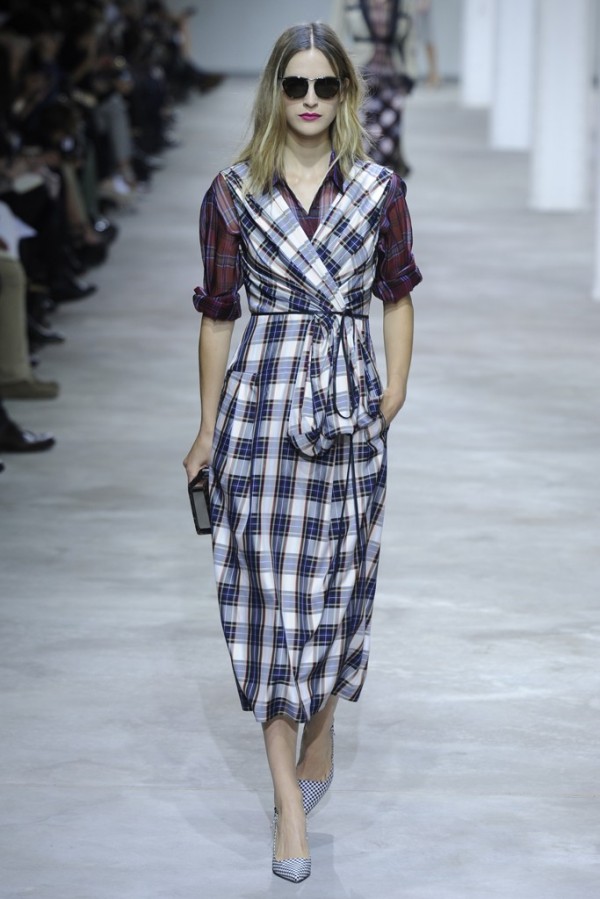 Skirts and jackets were adorned with an abundance of rosettes or ruffles giving them a couture feeling that screamed of French chic. The juxtaposition of highly feminine and somewhat mannish came off with ease.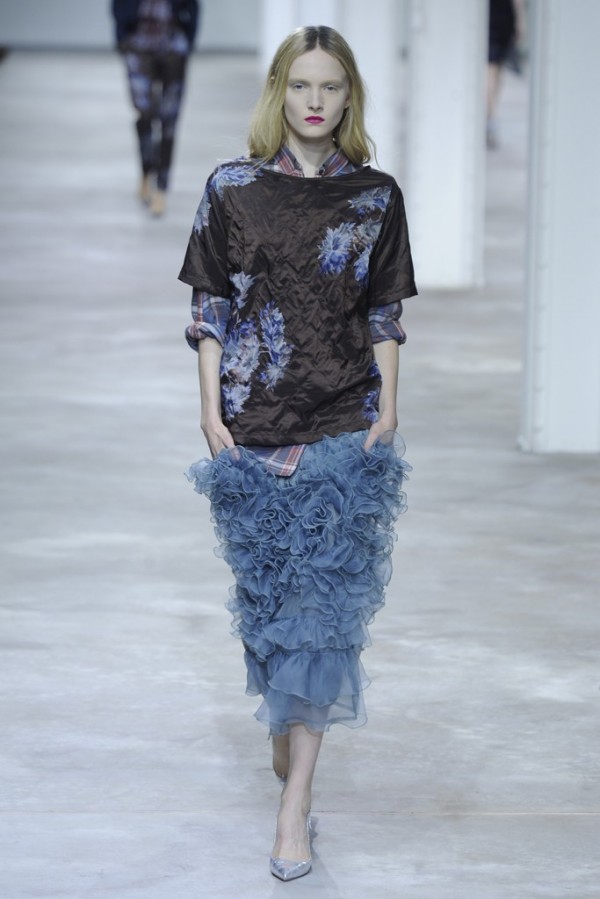 Though I probably haven't worn plaid since my Soundgarden or Alice in Chains concert going days this collection might convince me otherwise. From what I hear most of the editors in the audience were smitten and so am I.
The makeup was just as enticing as Peter Phillips took a cue from the 90's era Courtney Love leaving the models pale skin with a sweep of gray-green shadow and a pop of fuchsia on the lips with Chanel Rouge Allure Velvet #37.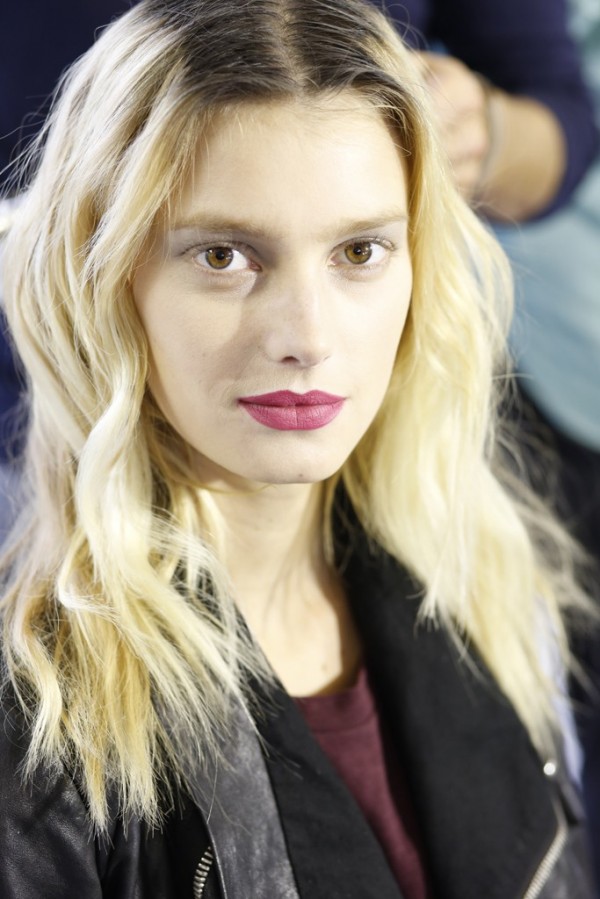 Paul Hanlon gave the hair an unkempt look with Frederic Fekkai Ocean Waves and Tigi's Bed Head After Party. Some models were even given dark roots thanks to a little powder makeup.
Sources: WWD, Style.com Photos Delphine Archer, Giovanni Gioninni