Happy New Year! I just love a new year; there is nothing like a fresh start. This past week we have discussed New Year's habits you can keep, starting your New Year off with the classics and more. Today, however, I want to talk about the fun stuff… That is, 2013 fashion and beauty trends. Because what is more exciting than being able to wear all of the stuff you've been looking and longing for in 2012!
In just a few short months we will be heading into Spring and what is more emblematic of springtime than water? Marie Claire declares that Water is one of the biggest inspirations and trends of this year. We love Donna Karan's take on the trend.
The seafoam draping of this particular dress looks as fluid as water. In fact, her entire muted, ethereal collection makes you feel as if you're being taken out to sea. Via Marie Claire
If you remember, my very first post Style Files was about my obsession with sunglasses. So, I am very excited about the comeback of statement glasses. This trend hit the runways hard and in some fun and fresh ways.

Photo: Glamour.com
We must not forget the news that flooded my Twitter feed with green… That is Pantone's declaration that Emerald is sure to be the color of the year (though I kind of thought that happened already…andybody else?). Here is what Pantone has to say about their choice:
"The most abundant hue in nature, the human eye sees more green than any other color in the spectrum," said Leatrice Eiseman, executive director of the Pantone Color Institute®. "As it has throughout history, multifaceted Emerald continues to sparkle and fascinate. Symbolically, Emerald brings a sense of clarity, renewal and rejuvenation, which is so important in today's complex world. This powerful and universally-appealing tone translates easily to both fashion and home interiors."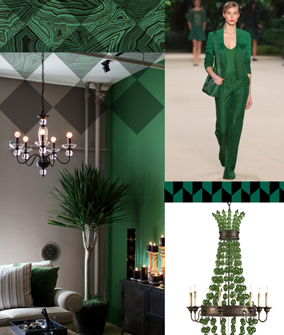 The nice thing about a color trend is that you can wear it, paint your nails a pretty green, wear emerald jewelry etc.
Braids aren't a new trend, but there are some pretty exciting twists on the plait to try. I am really digging the double fishtail braid that was seen at Tory Burch—a fabulous reason to start growing out my hair.

Photo: lucky.com

We saw a lot of electric purple, pink, and blue hair this year (think Katy Perry), but Peter Som took the colored hair trend and made it pretty and whimsical with soft, barely-there floral colors. Time to stock up on a bouquet of hair chalk!
By Kristianne Young