Normally, I am the kind of girl who likes to get her Christmas shopping done early so that I can enjoy the month of December by decorating, sending out cards and attending parties and local events.
In my big Italian family the emphasis at Christmas was always on spending time together and watching movies, playing games and of course feasting, rather than exchanging a lot of gifts or even high priced gifts…. And thankfully that is what we still do, but none the less I always want to be sure that it's the right gift. And even though I haven't done a Black Friday sale for years…. This years I may just venture out to snag the last remaining gifts on my list.
So here are a few of the stops that I will be making to pick up some treasures for those special people in my life.
This little tid-bit made me a happy little camper when it came across my inbox, Neiman Marcus has some sweet deals just in case you have had your eye on something special!
Shop Neiman Marcus Scottsdale for the very best the holidays have to offer. On Friday November 26, between 9 am and 2 pm, receive a $50 gift card with any in-store purchase of $100 or more! Find fashion for the whole family, artful home decor, tasteful treats, and that special something for everyone.
WHAT: Spend $100.00 or more between 9am and 2pm on Friday November 26th and receive a $50.00 gift card.
WHEN: Friday November 26th, 2010 9:00am to 2:00pm
WHERE: All Neiman Marcus Locations
WHAT ELSE: Some exclusions may apply; see your sales associate for details. $50.00 gift card must be used toward your next purchase between Friday November 26th, and Sunday December 5th. Offer valid in Neiman Marcus stores only.
Or how about buying something fabulous and supporting a good cause at the same time?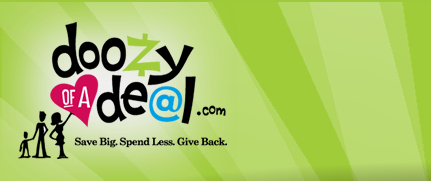 Doozy of a Deal is a fabulous and community minded web site that offers a daily deal to some of the best businesses around town including, restaurants, spas, clothing stores and fitness related locations (like my favorite yoga studio). You can save big while you are giving back and for Black Friday they are unveiling a really crazy, really top secret deal of up to 85% that I hear the ladies will love! And as always 7.5% goes back to a local school or non-profit. Since their March launch they have raised to date over $10,000. It's totally free to sign up, so be sure to you subscribe before Friday to catch this amazing deal! www.doozyofadeal.com