Page 1 of 3
Valley architectural firm Architekton is participating in a private-public team that hopes to certify the award-winning Tempe Transportation Center under a new program establishing voluntary guidelines and benchmarks for sustainable landscapes.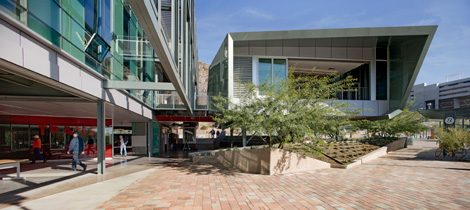 As part of the pilot Sustainable Sites Initiative™, the multi-modal center, Fifth Street and College Avenue, joins approximately 175 projects in 34 states as well as Canada, Iceland and Spain applying for accreditation from the first rating system covering green landscape design, construction and maintenance.
The SITES program is designed to encourage commercial, residential and municipal developments, with and without buildings, to create sustainable landscapes that are forward thinking and socially beneficial — promoting desirable outcomes such as cleaner water, reduced pollution restored habitats and pedestrian-friendly urbanscapes. The program is sponsored by the Lady Bird Johnson Wildflower Center at The University of Texas at Austin, the American Society of Landscape Architects and the United States Botanic Garden. During the past four years, more than 15 other organizations and 30 professionals have also participated in developing the rating system.
"Landscapes can be designed, constructed and maintained so as to rebuild the environment's capacity to clean our air and water, reduce the local heat island effect, provide critical wildlife habitat, reduce flooding — and even increase property values," says John F. Kane, FAIA, LEED AP, principal of Architekton and co-designer of the Tempe Transportation Center. "We have undervalued our landscapes in terms of what they could do for us, settling for attractive landscapes that met our basic needs," he adds. "But, they can do so much more; the potential of the landscape in the built environment is still largely untapped. SITES aims to change that." A hub for METRO light rail, local, regional and neighborhood bus routes, the 40,300-square-foot Tempe Transportation Center in downtown Tempe opened December 2008 — funded by federal transportation dollars and local municipal sources.
Sited on 2.7 acres below Hayden Butte, the three-story mixed-use building contains the city's Transportation Offices, Traffic Management Center, Community Room, Transit Store, leasable office space, retail, restaurant and The Bicycle Cellar — the state's first bike station with secure parking for 114 bikes, showers, lockers and facilities for bike purchase, rental and repair.