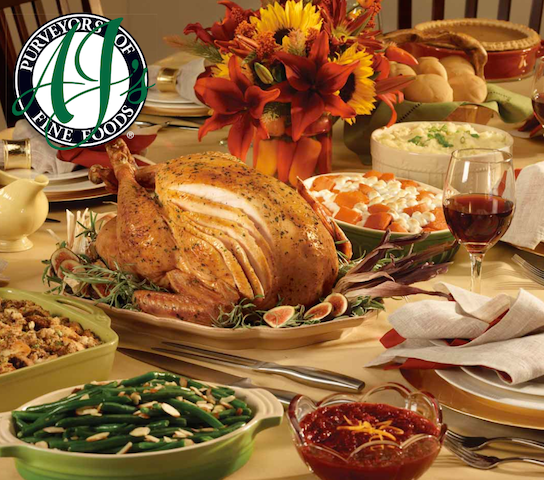 Be thankful that someone else will spend hours over the hot stove so you can still enjoy a Thanksgiving meal. Feast your eyes upon these delicious meals at various Tucson restaurants.
The Westin La Paloma Resort & Spa has not one but two Thanksgiving dinner options for travelers and guests this year. Both offering a southwestern flare, the Thanksgiving buffet in the Grand Ballroom will feature all your favorites in a casual setting. For a more traditional feast, AZul Restaurant is serving a three-course dinner overlooking the Santa Catalina Mountains. Kids will receive a smaller meal from an a la carte menu.
The Ritz-Carlton, Dove Mountain invites the public for a Thanksgiving brunch from 10 a.m. to 3 p.m. and/or dinner experience from 5-9 p.m. CORE Kitchen & Wine Bar is hosting both the Brunch Celebration and three-course Holiday Dinner, which will include champagne, oysters, pecan stuffing, and various meats and vegetarian options. If you are still a fan of celebrating Turkey Day at home, Ritz-Carlton is offering a take-home turkey that is already prepared, packaged and ready to be enjoyed by six to eight people.
If you're looking for a turkey to-go this year, Loews Ventana Canyon ResortLoews Ventana Canyon Resort is donating a turkey to the Community Food Bank of Southern Arizona for every turkey purchased through them. You can also visit Canyon Café at the resort for a Thanksgiving Day Brunch from 11 a.m. to 4 p.m. For a later dinner option, Flying V Bar & Grill will be hosting a unique twist on Thanksgiving dinner from 5-9 p.m.
From 11 a.m. to 7 p.m., Maynard's Market & Kitchen is offering a family-style menu featuring herb-crusted turkey, prime rib and more delectable treats.
Feast: Tasteful Takeout wants you to relax on Turkey Day, while they do the work preparing a turkey breast and legs, mashed potatoes, gravy, sage and celery or fennel and sausage stuffing, dinner rolls, pies, and much more. All of these to-go items are available to order by Nov. 23 and must be picked up by Nov. 26.
For an organic and natural Thanksgiving feast, head to Acacia promptly at noon. You will get to choose from a range of food options, like a butternut squash bisque for starters, a fresh salmon or lamb for the main course, and warm gingerbread for dessert. 
If you like to be nontraditional on Turkey Day, then you'll want to place an order for a "Tur-Duck-Hen," a turkey stuffed with duck stuffed with chicken stuffed with sausage corn bread stuffing, at Brushfire BBQ. If you'd rather feast, Brushfire will be offering for purchase a meal complete with buttered sweet potatoes, rosemary stuffing, cranberry relish and more. All orders must be placed by Nov. 23 and picked up by Nov. 26.
Taking a cue from its traditional menu,Cup Cafe at The Hotel Congress is creating a specialized Thanksgiving feast complete with smoked whitefish benedict, shepard's pie, slow-roasted turkey with confit leg, and more. Cup Cafe will be open all Thanksgiving Day, from 7 a.m. to 8 p.m.
While you sit at home watching football on the couch, Dakota Catering Company will come straight to your door to deliver a choice of two Thanksgiving meals. The first feast is more traditional and includes a butter lettuce salad, whole roast turkey, cornbread stuffing, green beans, and pie. The second option has a southwestern spice with chorizo stuffing, chipotle-maple sweet potatoes, brussel sprouts with bacon, and roasted garlic mashed potatoes. Dinners must be ordered by Nov. 21.
Choose from NY strip steak, organic salmon or oven-roasted turkey entrees at the Lodge on the Desert's Thanksgiving Day buffet from noon to 5 p.m. Cost ranges from $42 to $46 for adults; kids 10 and under costs $17; kids five and under eat free.
Pastiche Modern Eatery's Thanksgiving dinner offers a unique menu with updated holiday dishes. The a la carte menu features sweet potato and butternut squash soup, pumpkin ravioli, classic oven roasted turkey, salads and classic crème brulee.
If you'd rather stay home for dinner, Tucson Tamalehas you covered. The Thanksgiving Sampler is available until December and includes eight savory tamales (roasted turkey, cranberry, celery, carrot, onion and sage masa) and six pumpkin tamales for $38.
Dine in or take a turkey dinner home withThe Hungry Fox. The dine-in Thanksgiving meal is $11.95 per person, and the take home meal feeds eight for around $75.
AJ's Fine Foods is your go-to catering service. Elegant dinners include turkey, prime rib and lamb. The Thanksgiving dinner costs $149.99.