Thanksgiving leftovers are as much a part of the holiday tradition as the feast itself. Here are a few suggestions that go beyond reheat and serve  that will  put the zest back into your day-old turkey, stuffing and cranberry sauce. Be inspired by ethnic ingredients, from Italian bruschetta to Mexican tacos and tostados.
Use these suggestions for starters and let your own ingenuity take over!
Turkey Bruschetta With Cranberry
and Shallot Relish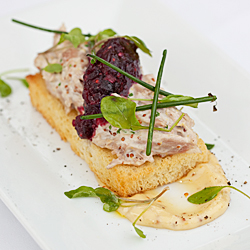 Turkey topping:
3 cups cooked, shredded dark turkey meat
1 cup mayonnaise (plus ½ cup more to taste)
¼ cup Dijon mustard
Salt and pepper
Cranberry and shallot relish:
2 cups fresh cranberries
¼ cup chopped shallots
1 cup red-wine vinegar
¼ cup sugar
Salt and pepper to taste
Bruschetta:
1 baguette, sliced on bias
1 stick softened butter
For topping: Fold together all ingredients, and season with salt and pepper. Set aside. For relish: Add cranberries, shallots, vinegar and sugar to pot, and simmer for 30 minutes, stirring occasionally. Add salt and pepper to taste. Remove from pot, cover and place in refrigerator until chilled.
For bruschetta: Butter baguette slices and toast in 400-degree oven for 5 minutes. To assemble: Place 2 tablespoons of turkey mixture on each slice of baguette, top with cranberry-shallot mixture and garnish with chive sticks.
Makes 10 to 12 servings.
– Sous-chef Dave Bowman of Petite Maison
Turkey Tacos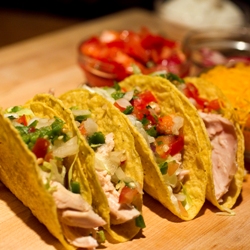 2 cups pulled turkey
1/4 cup water
6 taco shells
1 cup shredded lettuce
1 cup shredded Cheddar cheese
1/2 cup diced tomatoes
Salt to taste
Place pulled turkey in pan with water. Warm on stove on medium heat until turkey is completely warmed. Remove from stove and add salt. Fill taco shells with turkey and cheese. Place lettuce, tomato, and salsa on relish tray for a build-your-own-taco dinner.
Makes 4 servings.
Turkey Tostadas

4 tostada shells
2 cups shredded cabbage or lettuce
2 cups cooked turkey, diced or shredded
4 tablespoons hot sauce
4 radishes, diced
1 bunch scallions, diced
1/2 cup shredded Cheddar cheese
To make each tostada, top each shell with 1/2 cup cabbage or lettuce, 1/4 of the turkey and 1 tablespoon hot sauce. Garnish evenly with radishes, scallions and cheese.
Makes 4 servings.
Southwest Thanksgiving Eggs Benedict
8 ounces leftover stuffing (about 4 cups)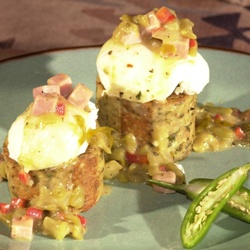 4 raw eggs
1 1/2 sticks butter, divided use
2 cups diced green chiles
1 cup diced ham
1/2 cup chicken stock
8 poached eggs
Combine stuffing and raw eggs to create a stuffing bread pudding. Form mixture into cylinder shape. Wrap airtight in plastic wrap and poach in a saucepan of hot, not boiling, water over medium heat for 20 minutes. Remove, unwrap and let cool. Cut into 1/2-inch-thick discs.
In a large saute pan over medium-high heat, saute discs in 4 tablespoons ( 1/2 stick) butter. Remove discs from pan and put on a serving platter; keep warm.
In the same pan, saute chiles and ham for 3 minutes. Add remaining 1 stick butter and chicken stock and stir to incorporate.
Stack poached eggs on top of stuffing discs and cover with green chile-ham sauce.
Makes 8 servings.
Cranberry Granita
4 cups whole-berry cranberry sauce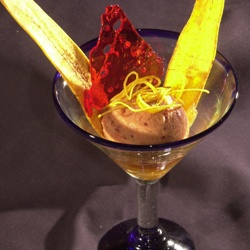 1 cup sugar
3 cups orange juice (or water, apple or other juice)
2 oranges, peeled and sectioned (optional)
Plantain slices dusted with chili powder
Combine cranberry sauce, sugar and juice in blender; blend until smooth. Pour in a shallow baking pan. Place in freezer. Gently stir once every 20 minutes until fully frozen ice crystals appear. Once crystals appear, it is ready.
Serve over orange sections and top with chili powder-dusted plantain slices. (See below.)
Makes 8 servings.
Source: azcentral.com.