Just because it's the end of summer doesn't mean all the fun has to end; especially when you can learn how to fly. With a water-propelled jet pack, that is.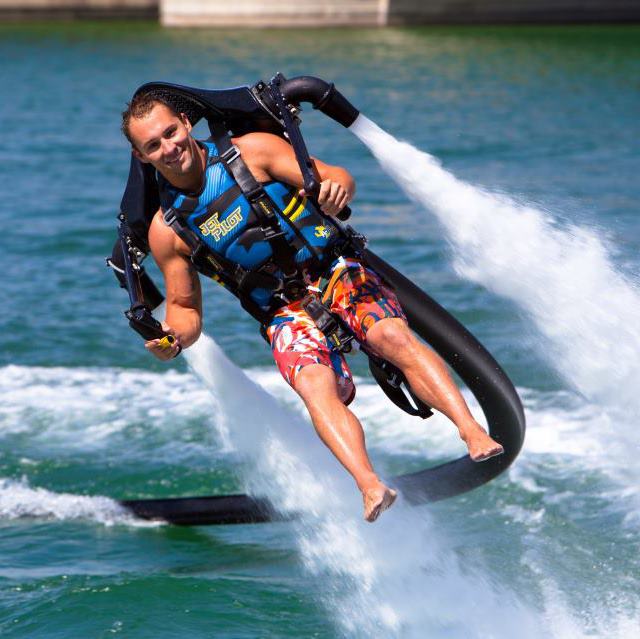 The latest sports thrill is water jet packing on Lake Havasu, where a water-propelled jet pack is capable of sending you 30 feet in the air at 30 mph. And you don't have to be a seasoned pro, either. Perfect for first-timers, you will learn how to fly solo within just a few minutes of in-water instruction and training with the help of a certified flight instructor from Water Jetpack Adventure, broken down into three stages: on-land safety training and fitting; training within the water; and water flight with the pilot controlling the throttle.
You control the thrust (up and down movement) by twisting the right vertical grip attached to the control arm. Moving is done by the control arms, up and down changes the angle of the jetpack nozzles allowing for propulsion forward, neutral or reverse. Shifting weight form side to side will allow the pilot to turn, while different nozzle angles will allow for zigzag turns.
Feel weightless and you levitate into the air with 3D field of movement, you can move to see anything that is around you. Once you learn how to fly, you can travel in any direction, at any height, and at any speed that the system will carry you.

Daily rental is available, with group rates for four to 10 people.
*Note: You must be over 18 years of age, and have a valid boating license if under the age of 22.
For more information, visit waterjetpackadventure.com.