Chocolate has been an indulgent and nutritious choice since ancient times, with the Greeks famously dubbing its scientific name Theobroma cacao, meaning "food of the gods." Luxury chocolate undergoes a highly specific process of roasting beans, tempering ganache and painting truffles. From Seattle to Vermont, treat yourself to an intimate tour and tasting of America's best chocolatiers.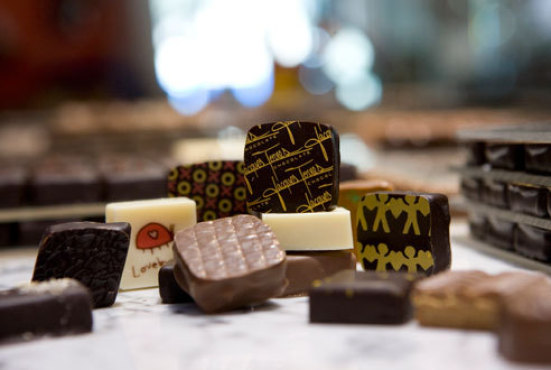 At Jacques Torres Chocolates, New York
Askinosie Chocolate, Springfield, Missouri
Visitors to Askinosie Chocolate can enjoy white and dark Authentic Single Origin chocolates wrapped in vintage-looking paper emblazoned with poetic epithets. Founder Shawn Askinoise respects the process start to finish, sharing 10 percent of his profits with his direct-trade farms in Ecuador, Honduras, Tanzania and the Philippines.
Details: 45-minute tour, $4; 514 E. Commercial St.; 417-862-9900
Jacques Torres Chocolates, New York
Famed pastry chef Jacques opened up his Brooklyn shop in 2000, since adding an operation in SoHo, where both locations welcome visitors to witness the factory magic of bean-to-bar processing. Inside, a statue of the Aztec chocolate god Quetzalcoatl greets customers who munch on made from-scratch confections.
Details: 350 Hudson St.; 212-414-2462
Lake Champlain Chocolates, Burlington, Vermont
Lake Champlain's offerings include hand-rolled truffles, hot chocolate, caramels and the Five Star bars the company is now known for. Recognized as some of America's best chocolate by The New York Times, the factory uses the Belgian variety with a local flavor by incorporating New England ingredients like maple syrup and cream.
Details: 30-minute tour, free; 750 Pine St.; 802-864-1807
Theo, Seattle, Washington
Theo was the first fully organic and fair-trade chocolate factory in the U.S. when it opened in 2006. The popular tour starts from a waiting area that ornately displays its famous bars, truffles and ganache. Inside the roasting rooms, tour guides educate visitors on the factory's small-batch production with big social impact.
Details: 1-hour tour, $6; 3400 Phinney Ave. N.; 206-632-5100
Source: Departures Magazine