We're used to dissecting all of the hair and beauty changes of our favorite female stars, but what about the men?  These days, some of Tinseltown's leading male hotties are taking manscaping to a whole new level.  Take it or leave it, the surprising new trend among male celebrities is…drum roll, please…going bald!
A-listers like Matt Damon and Jake Gyllenhaal are opting for the bare and smooth "Telly Savalas."  Nowadays, more and more men are shaving their heads whether their hairlines are receding or not. Still don't see why? "Well for starters, men opt for the shaved style because it looks sharp and intimidating, plus it's practical, easy to maintain, and let's be honest, it knocks another step off one's daily grooming routine," says Mike Sendogan, Clinical Director of LaserTouch Aesthetics in New York City of lasertouchsoho.com.
According to Sendogan, shaving it all off yourself is far less expensive than having to pay for a conventional haircut every few weeks. Not to mention, you'll save on the cost of shampoo and conditioner.
It's trendy, growing in popularity and becoming widely accepted as the norm, even at the office.  Most men have begun to accept themselves as they are – they're confident and don't need to hide under the dreaded comb-over anymore," he says. "And it doesn't hurt that a shaved head allows them to fully showcase their rugged facial features."
For completely bald or balding men who are tired of the daily maintenance a shaved head demands, Sendogan says permanent laser hair removal of bald spots or complete removal of hair on the head has increased in popularity. "We have many clients who complain of their 'five o'clock shadow' showing up on their shaved head," says Mike. "Guys who are bald want to reduce the amount of time they spend maintaining their look, and this is a perfect solution for them."
How does Laser Hair Removal work?
Laser hair removal is a relatively painless process during which hair that is in its active growing phase is targeted and permanently removed. In most cases, hair is reduced by 85-90% after six treatments. LaserTouch's laser equipment is top-of-the-line and FDA approved, making them extremely safe and effective. LaserTouch's sophisticated lasers target the root of the hair to eliminate everything from dark, coarse hair to fine, light hair.
During treatment, the laser targets the darkness of the melanin pigment in the hair follicle. Hair follicles that are targeted will die and fall out in two to ten days following treatment. Most treatments are scheduled four to eight weeks apart, allowing for the hair growth cycle to begin again, allowing LaserTouch to target remaining hair follicles in the treated area. Most clients are recommended four to six treatments to achieve maximum results.
What is the procedure like?
The actual laser hair removal process is very simple: a hand-held applicator is placed on the area to be treated and a flash of light is emitted from the applicator every one-two seconds. The operator then continues to move the applicator over the entire area to be treated, flashing a new area every few seconds. The treatment session can take from 5 to 45 minutes, depending on the size of the area to be treated. The degree of discomfort experienced varies with each person, depending on your sensitivity. The sensation may be anything from painless to a tolerable sting.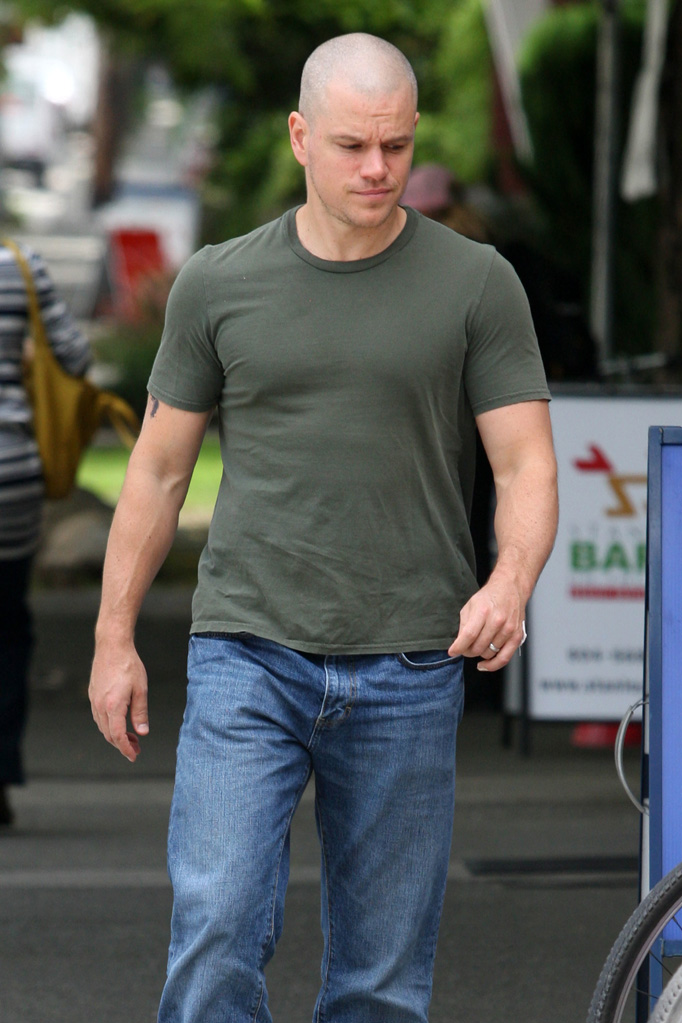 Damon chopped of his hair for a role in the film "Elysium."
What do you think – Do you prefer your guy or bare and smooth or with luscious locks?