Great news for the fashion-forward who lives for clothes that hone the perfect mix of athletic and lounge: Andi and Steve Rosenstein of The Duce have expanded their in-house label, R&R Surplus, to Neiman Marcus's On The Go department.
Formerly composed of reclaimed athletic pieces and vintage items, the line boasts super soft, quality fabrics that can take you from morning yoga to running errands, in effortless chic.
"You just want to live in them," Andi said of the casual cool garments.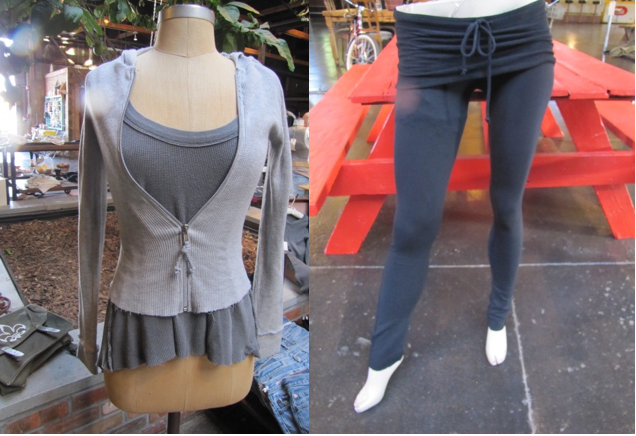 Thermal Hoodie and French Terry Roll Over Legging. Both from the summer collection.
The duo is no stranger to fashion; before opening the multi-space bar, eatery, gym and shop in Phoenix in 2010, the couple operated a casual clothing business called Fitigues in Chicago for 19 years.
Andi, the creative eye behind the clothes, has always had a natural knack for design, never having had any formal training.
"I love looking at the market and filling a void for what's out there," she said.
Dubbed the "non-athletic athletic style" by industry insiders, an old friend and buyer at Nordstrom's Savvy department encouraged the Rosensteins to cultivate the label, noting the look of true athletic wear, like Under Armour, is out in favor for a more casual-athletic look.
"The customer was ready for something updated and fresh," Andi said of the clothes that are designed in Scottsdale and manufactured in L.A. "I have a great sense for the customer, with a focus on a very specific look."
A look from the fall collection; Thermal-lined Leather Bomber Jacket
Simple in appeal, the clothes, retailing between $68-$120, are made with luxurious soft-to-the-touch fabrics, with quality and fit in mind.
"I want to make sure that after you wash, dry and travel with them [the garments], they still look the same," Andi said. "They're not going to shrink or lose their quality."
The summer collection features about 15 pieces, including the ever-popular French Terry Roll Over Legging and Thermal Hoodie (pictured above).
Experimentation with colored stretch fleece headlines the fall collection, slated to hit stores at the end of September, while the holiday collection will debut mid-November.
R&R Surplus can now be found side by side with labels such as Stella McCartney for Adidas at Neiman Marcus, Nordstrom, Equinox, spas, gyms and hotels across the country, and, of course, The Duce.
See and shop the summer collection at www.randrsurplus.com.