Freshen up your go-to jeans and jersey look at your favorite team's next game with denim that exactly matches the team's color.
SkinnyJeans, the brand known for making slimming, comfortable denim, has just launched its Team Colors collection. Choose from 30 team colors from every university and pro sports team in the USA in an ultra-slim skinny straight cut made from nylon and elastane that is eye-catching as well as figure flattering.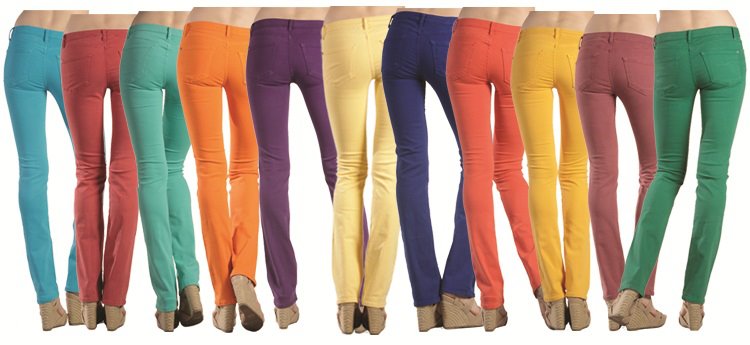 Made from start to finish in the U.S., the jean is a classic five-pocket style with a stretchable, contoured waistband that falls just bellow your belly button. The inner-workings are the secret to that slimming effect seen from the outside; the non-stretch pocket lining is sewn together to act as a restraining panel to flatten your stomach in an instant. At the same time, the inseams are drawn forward to separate and slim the thighs, while the back pockets are strategically placed and sized to give your butt that extra lift and oomph.
The jean retails for $159 in sizes ranging from 23/24 to 31/32 and also comes in black, white and a fun gold or silver metallic.
The rest is already in your closet: Complete the look by pairing the colored denim with your favorite fitted jersey or T-shirt and tennies. Top off with a high pony and you're cheer-ready in style.
You can find the SkinnyJeans Team Colors denim here.