Does your pup need to make like-canine pals? New website and social media outlet MatchPuppy connects owners so their pets can meet up for a play date.
Launched in February, the online doggy network originally worked as a "dating" website for dogs, says MatchPuppy co-founder Michael Chiang, mentioning he found it time-consuming to find a breeder for his three-year-old maltese, Louis.
The startup opened up to general meetups after talking to friends and locals who said they needed an online community to facilitate dog play dates.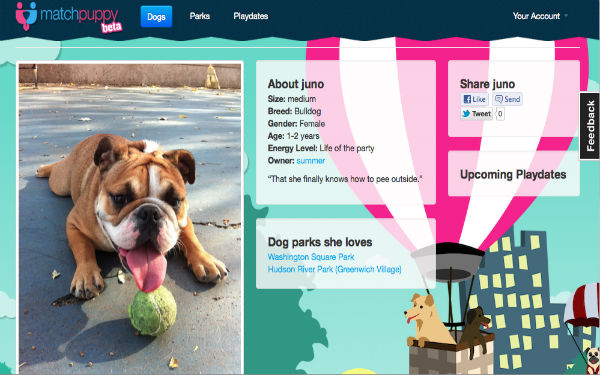 "This is a need in the market," Chiang told Mashable. "A lot of people who have small dogs would rather they have small dogs to play with. It can be used for puppy play date or it can be for breeding."
Traveling owners can find the social network as a haven for other pet owners with similar dogs to babysit.
Create an account and set up your pup's profile, including size, breed, gender, age and energy level. You can also add "interests." Of course, there's no excuse not to share cute pictures of your pet alongside his/her profile. Another fun tidbit is the site's parks directory that lets users search within their favorite parks.
Users can browse scheduled "playdates" by date, time and park location, while seeing which doggie friend(s) will be attending.
For now, MatchPuppy is available in New York City, but hopes to expand to other pet-loving cities. In our sunshine, dog-loving state, we hope it comes our way.