Even though I'm probably one of Steve Jobs's biggest fans, I must say he did a poor job publicizing an amazing and somewhat hidden new feature to iOS4- Group SMS Messaging! Since no one seems to be aware of the added feature and because I got such an unbelievable response to my last text messaging post (adding smiley faces), I thought I'd rev up your SMS experience even more and share this much-needed and must-have update…
Love at First Sight
Last weekend, my hometown friend came to visit, so I of course had to take him to my favorite restaurant in town. And as I expected, he became an instant fan and decided to text a pic of the menu to his big group of buddies back at home… but not separately, ALL AT ONCE! I couldn't believe my eyes. How is it possible that I did not know about this fun and super convenient way to SMS text!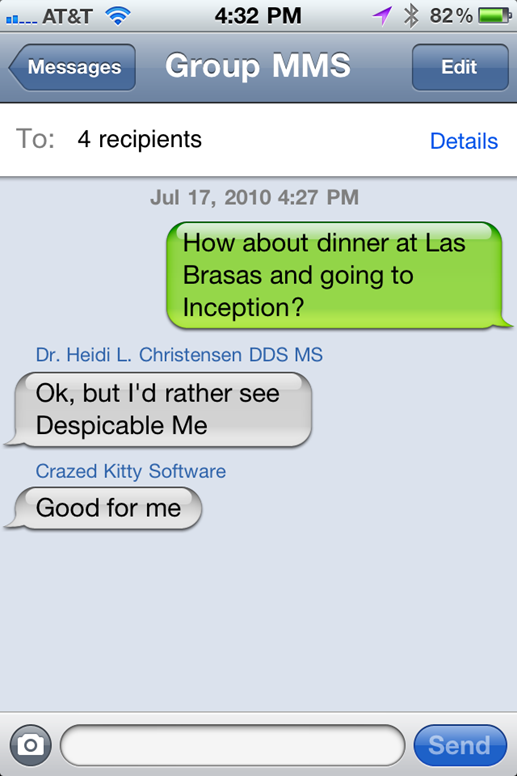 Chat as a Group
This new feature not only let's you send one message to numerous people at a time for the price of one, but you can chat as a group! That means everyone will see your responses as all messages within the group are placed into a single thread. Each message is identified with the sender's name above and when a recipient of the message responds it is automatically sent to all members of the original thread. Imagine the possibilities!
How to Turn it On
But to use group messaging and see the feed you MUST first turn it on in settings:
Settings –> Messages –> Group Messaging to "ON"
If you don't see "Group Messaging" in your Messages component, you need to upgrade your iPhone.
(When set to OFF, each recipient only sees you and their name in the thread, but when set to ON, you can enjoy messaging as a group!)
Start Group Messaging!
Now when you create a new message in your Messages app, add as many friends to the "To:" field as you want! It's just like sending an email. I've said it before and I'll say it again… Who would want anything other than an iPhone?
Group Your Contacts!
The new feature is perfect for us ladies with a large group of gal pals, along with fitness groups, roommates, family messaging and even coworker chats! You can build groups in your Contacts app for faster shout outs (i.e. "Tennis Group").
Send Pics
You can even send photos through MMS to the group! Just find the pic you want to send in your Photos gallery and tap the bottom left sending arrow icon. In the pop-up, tap "MMS". This will create an MMS message in your Messaging app and allow you to add as many recipients as you want! Cool huh?
*No other AT&T phones currently have Group Messaging.
Also, click here to learn how to add smiley faces and fun icons to your SMS text messages!
IPhone4life