Spas have become more than a classy way to get pampered, they are tools to obtaining a healthy lifestyle. That is why Spa Week, sponsored by Arizona Foothills Magazine, wants to help teach and inform the public about these relaxing therapies and their many benefits. This highly-anticipated week is slated for April 13 through 19 and will offer $50 treatments from more than 20 different luxury spas in Arizona, including Arizona Biltmore Spa, VH Spa at Hotel Valley Ho, Agave the Arizona Spa at the Westin Kierland Resort, Red Door Spa and more! And to top it off, a portion of all Spa Week proceeds will benefit Cancer and Careers.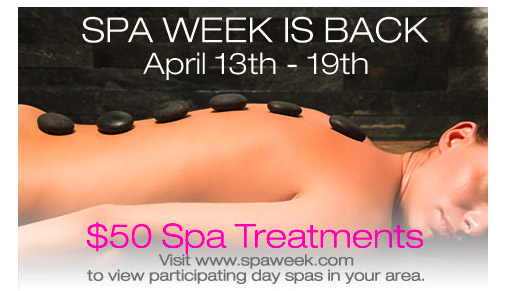 Spa Week will be bringing $50 treatments to consumers at over 650 spas across the United States and Canada in an effort to educate the benefits of a healthy lifestyle, and to open up the spa industry to the masses. Since everyone loves Spa Week, they are holding a special drawing. For a limited time, Spa Week will award five lucky winners with a $100 Spa Week Gift Card. Click here to enter!
Complete List of Participating Spas in Arizona: 
Agave The Arizona Spa at the Westin Kierland Resort
Agua Spa at Mondrian
AMOMI Pregnancy Wellness~Spa
Arizona Biltmore Resort & Spa
Avante Salon & Spa – Gilbert
Avante Salon & Spa – Mesa
Dolce Salon & Spa – Arrowhead Fountain Center
Dolce Salon & Spa – Chandler Fashion Center
Dolce Salon & Spa – Scottsdale Borgata
Facelogic – Scottsdale
Golden Door Spa at The Boulders Resort
Hotel Valley Ho – VH Spa
Jurlique Spa at FireSky Resort
Moss Wellness Spa
Nu U Unlimited at Arrowhead Mall – Glendale
Nu U Unlimited at Paradise Valley Mall – Phoenix
Nu U Unlimited at Superstition Springs Mall – Mesa
Red Door Spa – Phoenix
Red Door Spa at The Westin LaPaloma Resort – Tucson
Red Door Spa at The Wigwam Golf Resort & Spa – Litchfield Park
Revive Spa at JW Marriott Desert Ridge
Rolf's Salon & Spa
Skin Care by Klara
The Salon & Day Spa at The Scottsdale Plaza Resort
Tocaloma Spa & Salon at the Pointe Hilton Tapatio Cliffs Resort
Tocasierra Spa & Salon at the Pointe Hilton Squaw Peak Resort
Tropical Mist Day Spa
 
 So treat yourself to a day of pampering and relaxation – all for a good cause. For more information call 212.352.8098 or visit www.spaweek.org.