Scottsdale Quarter's all-new Parc Central restaurant and lounge is celebrating the opening of its Ultra Outdoor Patio Lounge this weekend- just in time for the Phoenix Open and Super Bowl!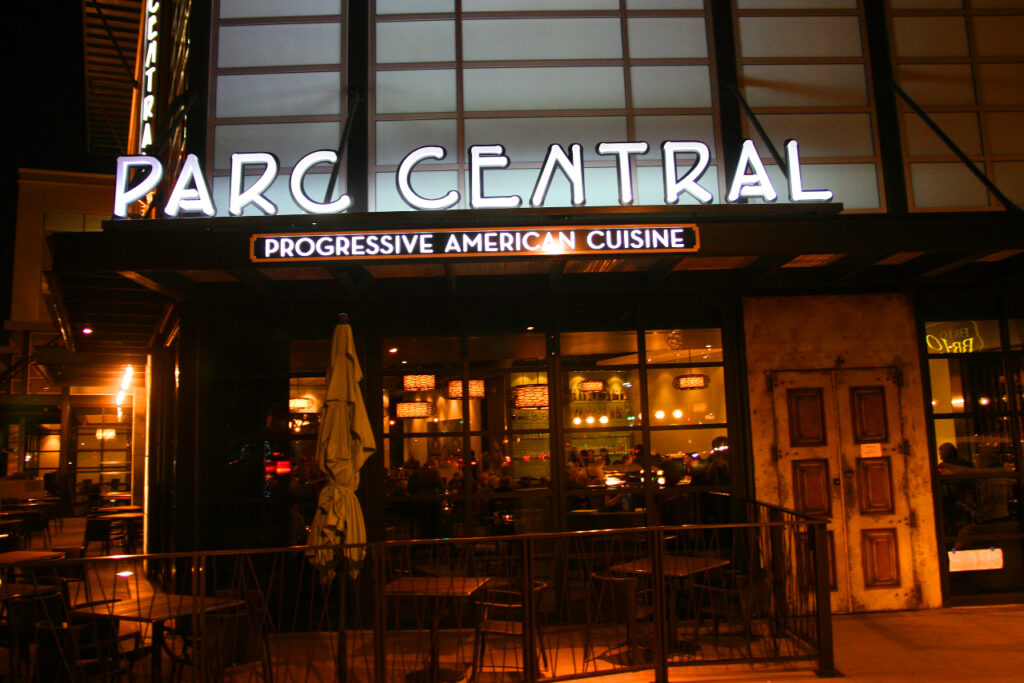 The Opening Celebration
The new boutique restaurant and lounge dishing out a progressive American fare invites you to kick-off the festivities Thursday night with SKKY Vodka at the launch of Parc Central's Ultra Outdoor Patio Lounge. Guests can imbibe on colorful SKYY Vodka martinis and cocktails created by Parc Central's mixologists and nibble on delicious entrees off the dinner menu until 11 p.m. and late night bites until 2 a.m. The party on the Patio continues Friday and Saturday from 11 a.m. until close.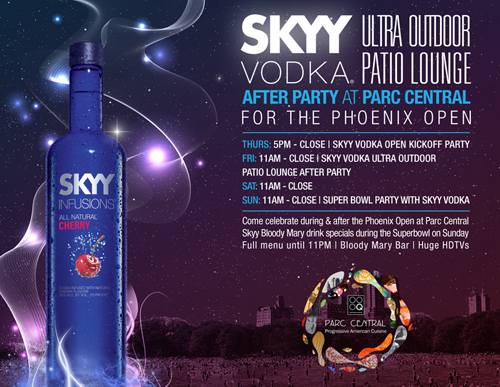 The Super Bowl Party
Know where you're watching the big game on Sunday? With its huge HDTVs, Parc Central makes for the perfect Super Bowl destination! Enjoy a Skyy Bloody Mary Bar with specials during the game as well as a full menu until 11 p.m.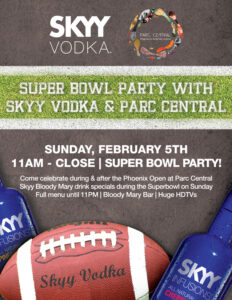 How to Receive Your Free SKKY Cocktail
Pick-up a Parc Central flyer at the Phoenix Open and redeem it anytime between Thursday and Sunday for a complimentary SKKY Infusion cocktail.
More on Parc Central
Located in the heart of the Scottsdale Quarter, a newly developed, premium mixed-use of retail & offices directly adjacent to the highly successful Kierland Commons. Parc Central brings new life to one of the most popular destinations in the area. Parc Central delivers a sophisticated international feel and vibe. Throughout the day and evening the venue will operate as a high quality restaurant, offering delicious prepared foods at affordable prices as the average check for lunch is anticipated to be $20 while the projected dinner to be $40.
Under Executive Chef Chad Burnett, the Restaurant will feature a progressive American menu focusing on "market driven" cuisine: handpicked local produce, meats and fish based on the best the market has to offer. Parc Central only purchases fresh, organic, hormone free products when readily available. The menu focuses on a shared plate experience, capitalizing on the trend of guests wanting to sample several dishes within their dining experience. Parc Centrals fresh ingredients honor simple, sophisticated flavors. At Parc Central, simple definitely doesn't mean simplistic, they prefer to switch it up a bit.
The image of "Parc" the restaurant shows a slick interior with organic overtones, a fresh and open space suitable for daytime use in which they invite their guests to find their resting place within. As the afternoon turns to night, the main dining room will shut down and guests will filter towards the downtown lounge know as "Central". Central is a sophisticated, exclusive, stunning experience serving late nights bites until 1am with signature cocktails being served until 2am. The intimate fire lounge is a great escape for private conversations while the PDR or Private Dining Room can accommodate enclosed partied up to 25, so invite your friends and family to come enjoy an experience at Parc Central.
Fore more information on Parc Central visit parccentralrestaurants.com.