If you were inspired by Ali Vincent's incredible journey and transformation as a contestant and later winner on the powerful NBC show, The Biggest Loser, then Vincent's new book, Believe It, Be It, will make you believe that anything you set your mind to is possible.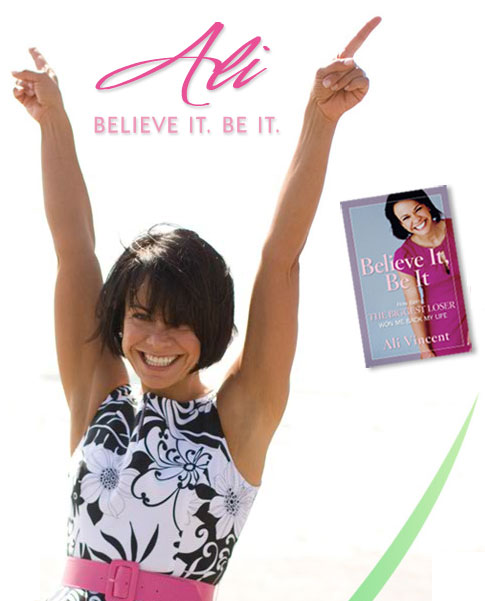 As a nationally and internationally ranked synchronized swimmer, Ali Vincent couldn't believe her weight had reached an astounding 234 pounds. Her physical appearance wasn't just a result of poor eating habits, Vincent also endured family problems, stress and low-self-esteem.
"After years of being afraid, ashamed and unhappy, she resolved to change her life, once and for all: to lose weight, get healthy and pursue her dreams."
In Believe It, Be It, Ali opens up about her struggles, and later, her physical and personal transformation on The Biggest Loser. She also gives a rare portrayal of the hard life at the famous Biggest Loser ranch. For those who would like to change their life like Vincent, Believe It, Be It, shares her weight-loss strategies, eating habits and workout tips that helped her lose—and keep off—more than 100 pounds.
The title of her new book, Believe It, Be It was Vincent's mantra as she competed in The Biggest Loser. In her bedroom at The Biggest Loser ranch, Ali rang a little bell she kept on her bedside table each night before she went to sleep and again when she awoke in the morning, repeating the phrase "Believe it, be it." Seven months later, she emerged from the grueling competition as its first-ever female champion, claiming the title, the grand prize and, most of all—winning back her life.
"For anyone who has ever battled with weight loss or struggled to accept themselves for who they are, Ali Vincent's story provides hope that a happier, healthier, more fulfilling life is within reach. It all begins with believing that it's possible. Believe it, and be it. "
When Ali gave up swimming, she admits to never having replaced that activity with anything else. "She had rarely really worked out in a gym and had never incorporated new activities to keep her life active. Gradually, by adding five pounds at a time, after thirteen years Ali tipped the scales at 234 pounds. Only 5' 5", she says now that she had lost control and wasn't completely sure how to get it back."
Now, Ali Vincent, whether attending a health fair or a triathlon as a celebrity spokesperson or hired as a "motivational speaker," inspires audiences around the world by speaking and writing about her experience and personal philosophy.