Alicia Silverstone may not be so "clueless" after all. Yesterday the actress, activist and committed conversationalist celebrated the release of her new book, "The Kind Diet: A Simple Guide to Feeling Great, Losing Weight, and Saving the Planet," at Candle 79 in New York City.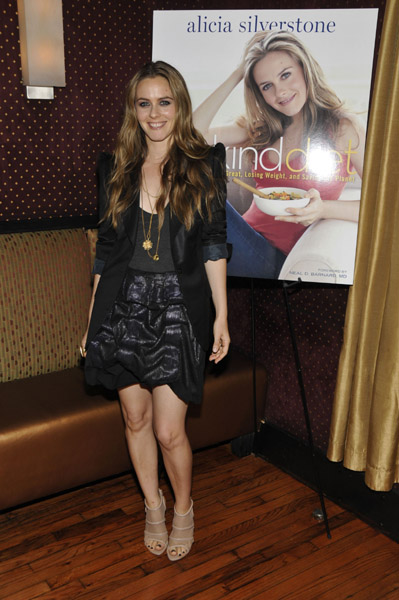 Not your typical diet plan, Silverstone's new book speaks of how and why she decided to swear off meat and dairy forever. She also describes how adopting a plant-based diet can bring a girl's dream come true – effortless weight loss, clear skin, off-the-chart energy and a smooth digestion. I personally am a little skeptical to read how necessary foods like meat, fish, milk, and cheese can actually be harmful to our bodies, and as Silverstone believes, can be "culprits behind escalating rates of disease and the cause of dire, potentially permanent damage to our ecology."
Now try to picture your daily meals without meat or dairy. Doesn't sound very appetizing? In comes Alicia! "The Kind Diet introduces irresistibly delicious food that satisfies on every level—it even includes amazing desserts to keep the most stubborn sweet tooth happy."
Silverstone is aware of certain nutritional needs, like protein and calcium, and addresses these concerns for those starting her plant-based diet. She and her diet plan covers every nutritional base.
Also, readers don't have to become full blow vegans overnight. Alicia's new book, The Kind Diet, encompasses three separate levels, from "Flirting" to "Superhero".
Flirts: This group learns "to dip a toe into the vegan pool", by simply limiting their meat portions and switching a few key foods for plant-based substitutes. Alicia promises that even after these small changes, there will be big results. "Vegans get to experience the life-altering effects of forgoing animal-products entirely, while still enjoying many convenience foods and meat substitutes in addition to the wonderful grains, vegetables and fruits that form the core of that diet."
Superhero: For "true enlightenment" on becoming and living like a vegan read up on Alicia's "Superhero" program. This system is based on the principles of macrobiotics. Participants will indulge in whole grains, vegetables, and other delicious foods that Alicia describes in detail.
About the Author
Alicia Silverstone, voted "Sexiest Vegetarian Alive" in 2004, is best known for her role in "Clueless," every girls favorite flick back in the day. Silverstone is a dedicated advocate of the planet and its animals.