For years, The View's conservative co-host Elisabeth Hasselbeck had a sickness she never seemed to kick, and it wasn't until she discovered the gluten-free diet that she was able to live a healthy, normal life with the added bonus of a thinner figure. And after much excitement and talk, Hasselbeck wanted to spread the word and share her secret with the recent release of her new book: "The G-Free Diet: A Gluten-Free Survival Guide," which preps readers with everything they need to start living a gluten-free life.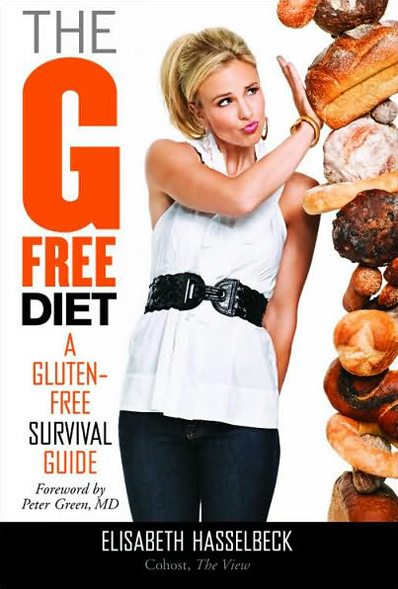 Gluten is the binding element found in barley, oats, wheat and rye. It was identified as the cause of Hasselbeck's sickness after she agreed to be a contestant on Survivor, where she was deprived of nearly all food for thirty-nine days. To her astonishment, Hasselbeck felt completely normal while filming the show, when prior to that experience she would endure severe stomach pains and felt continually fatigued. After this surprising discovery and long-time search, Hasselbeck found her answer and was diagnosed with celiac disease. And her treatment: a lifelong gluten-free diet.
Not just a cure to her disease, the g-free diet had other subsequent benefits including weight loss, increased energy, faster digestion and improved attention span.
And now Hasselbeck wants the world to feel as good as she does with her new way of living. Her new book guides you with all the tools you need to start feeling and looking better with her sworn-by, anti-gluten diet. She starts by defining the ingredient and identifying gluten-free foods and beauty products. She also creates "G-Free" shopping lists, shares recipes, guides you with dining out and managing G-Free living with family and friends.
With the help of Hasselbeck, The G-Free Diet is buzzing and is even popping up on food labels beside "No Trans Fat."
Sample of Gluten Free Foods:
Corn, rice, potatoes, amaranth, buckwheat, millet, tapioca, quinoa, sorghum, and flours made from them
100% unprocessed meats, poultry, and seafood with no additives or coatings; eggs
Fresh fruit and fruit juices
Fresh and frozen vegetables and vegetable juices
Beans and legumes
Nuts and seeds, and flours made from nuts and seeds
Tofu (only the kind made from soybeans)
Coffee, Tea
Whole milk, soymilk (read label), and aged cheeses
Distilled liquor and wine
Symptoms of Gluten Intolerance:
Upset stomach, Headaches, Fatigue
Intermittent diarrhea, Abdominal pain & bloating
Irritability, depression or anxiety
Muscle cramps, Bone or joint pain
Mouth sores inside the mouth
Irritable bowel syndrome, Gastric ulcers
Tingling numbness in the hands and feet
Unexplained iron-deficiency anemia
Arthritis, Seizures
Bone loss or osteoporosis
Missed menstrual periods, Infertility or recurrent miscarriage
Skin rash (dermatitis herpetiformis)
"The G-Free Diet" can now be found at your nearest Barnes & Noble, Borders or on amazon.com.
For more information, visit www.gfreediet.com.