With your outdoor thermostat ranging from 100 to 120 degrees right now, it's hard to think of anything else but staying cool. Well you still need to look good in that summer bikini, so cool off and break a sweat simultaneously with exercises done in a refreshing pool.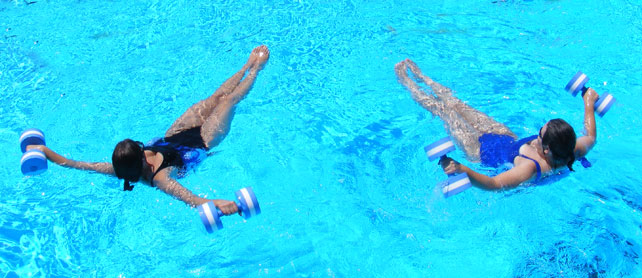 Under water exercises allow for a total-body workout as it combines aerobic and resistance training; the water being the resisting force.
Water Aerobics
The water gives light resistance that is great for lean muscles, but to add more you can use paddles, webbed gloves, tubing, and foam "dumbbells" for example. These water aerobic classes are great for toning but are also therapeutic for those with injuries, special needs or arthritis.
Swimming
If your looking to shed fat and burn calories, outdoor running is usually the way to go, but almost physically impossible with our current climate. Try taking swim lessons for an under water cardio workout.