All women envy the dancer. Yes, they are coordinated, artistic and trained athletes. But mainly, we envy them because of their perfectly sculpted, toned physiques. As someone who has endeavored practically every mainstream sport, I can proudly say that when I trained in ballet and jazz, my body was the leanest and lightest it has ever been.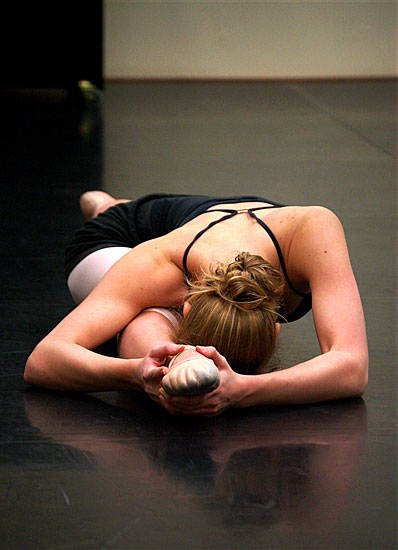 So what is it about this gentle training system that keeps the body so thin without adding bulky muscles? If you haven't noticed, ballet has similar characteristics and benefits as that of yoga and pilates, except it works to turn your hip and legs outward. It focuses on flexibility, while also strengthening your muscles with certain held positions. The constant stretching also works to elongate your muscles, which keeps everything longer and thinner. Since ballet never requires you (the female dancer) to use any outside resistance, except the weight of your own body parts, the muscles remain lean.
Ballet is a very disciplined, highly technical activity that does not put an abundance of strain on the body, like other rigorous sports. It also works to train the body to dance in perfect symmetry, which after years of training can be extremely rewarding.
Recap on the benefits:
Constant stretching elongates the muscles
Held poses tone muscles, especially the core
Constant movement burns calories
Never uses more than own body weight for resistance
Adult Classes in the Valley:
Yes, putting on a leotard and tights can be a little intimidating and downright scary for some of us. But don't worry, adult classes are geared for those who would simply like to enjoy the many benefits of beautiful ballet dancing. Valley Girl has gathered ballet studios that feature adult ballet classes…
Express Mie: Fitness & Beauty
Class: "Tu-Tu for You"
6448 S McClintock
Tempe, AZ 85283
www.expressmie.com
Bender Performing Arts
Class: Adult Ballet Level 1
3141 East Beardsley Road, Suite 110
Phoenix, Arizona 85050
www.benderperformingarts.com
The School of Ballet Arizona
Class: Adult Ballet
3545 East Indian School Road
Phoenix, AZ 85018
www.balletaz.org
History of Ballet: Ballet originated in sixteenth- and seventeenth-century France and still uses the orignal French terms and vocabulary today. Ballet has continued to develop and has had a strong influence on broader concert dance. For example, in the United States, choreographer George Balanchine developed what is now known as neoclassical ballet. Subsequent developments now include contemporary ballet and post- structural ballet, seen in the work of William Forsythe in Germany, according to Wikipedia.