'Tis the season for K-LOVE Radio's national Acoustic Christmas Tour! On Thursday, Dec. 13, the seasonal tour will arrive at Grand Canyon University, featuring musical performers Sanctus Real, Sidewalk Prophets and Dara Maclean.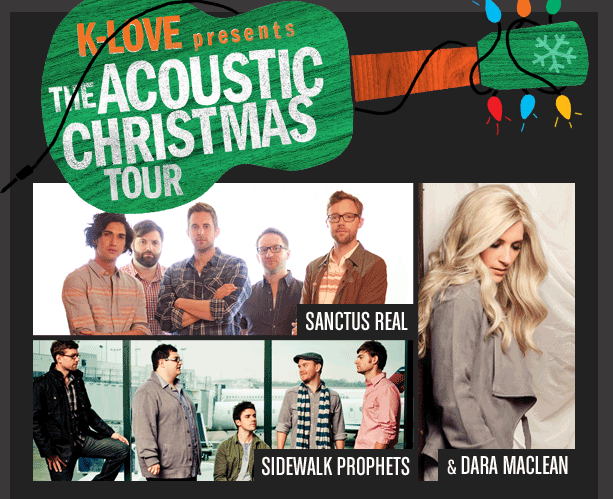 "Christmas is our favorite time of year. Celebrating the birth of Christ through song and stories always gets us excited, and getting to tour the country and do just that make it the most wonderful time of year for certain," said Dave Frey of Sidewalk Prophets. "We are honored to team up with our family at 25 Entertainment and our dear friends at K-LOVE to pour out our hearts alongside the awesomeness that is Sanctus Real and our good friend Dara Maclean. It is going to be a fun and worshipful time, and we are counting down the days until Christmas time is here."
The musical fun will be supplemented by opportunities to sponsor children from around the world by World Vision's Survive to Five, a Christian humanitarian organization dedicated to working with children, families and their communities worldwide. The goal is to have a total of 600 children sponsored by the end of the tour.
WIN TICKETS!: We're giving away 4 tickets, courtesy of K-LOVE. For a chance to win tickets to K-LOVE's Acoustic Christmas Tour in Phoenix this Thursday, just comment below! First-come, first-served!
For more information on K- LOVE and 25 Entertainment's Acoustic Christmas Tour, please visit: www.acousticchristmastour.com.