Mark your calendars — this spring, there's nothing but big-name music talent visiting the Valley.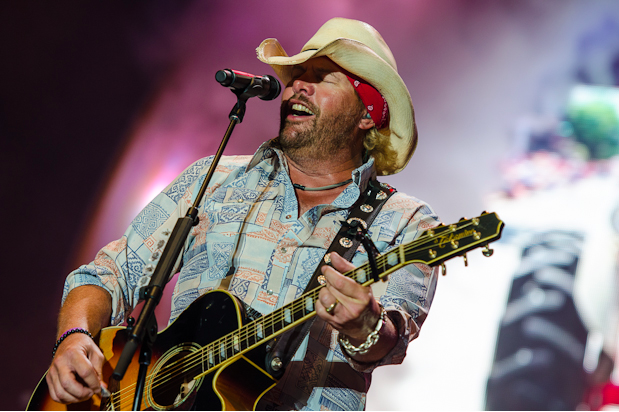 Toby Keith performs at Country Thunder
1. Billy Bragg
Witness a rare legend in an intimate setting at downtown Phoenix's Crescent Ballroom. See: Bragg's first album, "Life's a Riot with Spy Vs Spy" and his contributions to Wilco albums.
Details: 8:30 p.m. Tuesday, March 26. Crescent Ballroom, 308 N. Second Ave., Phoenix.
Tickets: $27.50-$41, crescentphx.com.
2. Tech N9ne
This underground rapper has made a name for himself and sold more than a million albums without ever having airplay. See him live at Tempe's Marquee Theatre this Wednesday.
Details: 6 p.m. Wednesday, March 27. Marquee Theatre, 730 N. Mill Ave., Tempe.
Tickets: $35, luckymanonline.com.
3. Soul Asylum
It's been six years since Soul Asylum has issued a new album. But as evidenced by the arrival of "Delayed Reaction," the wait was most certainly worth it. Fans will be happy to discover the group's trademark ragged-but-right sound is still very much present.
Details: 8 p.m. Tuesday, April 2. Crescent Ballroom.
Tickets: $12, crescentphx.com.
4. 3rd Annual Old Town Blues Fest
All local and homegrown, the third annual Old Town Blues Fest will feature headliners Alan James Band and Bobcat Jack (J.W. Everitt) with locals Bill Barns Trio, Don Whitcher & the Kings of the Border, and Bresnan Blues Band.
Details: 2 p.m. Saturday, April 6. Old Town Center for the Arts, 633 N. Fifth St., Cottonwood.
Tickets: $25, oldtowncenter.org.
5. Phoenix
Phoenix is gearing up for its release of "Bankrupt!," which is set to release two weeks after its visit to the Valley. Dance to the band's famous tunes from Grammy-winner "Wolfgang Amadeus Phoenix."
Details: 8 p.m. Monday, April 8. Marquee Theatre.
Tickets: $37; $35 in advance. statesidepresents.com.
6. Country Thunder
Country fans unite at the biggest country music festival of the season. Big names like Brantley Gilbert, Eric Church, Toby Keith and Lady Antebellum will keep the tunes going from Thursday through Sunday.
Details: 4 p.m., Thursday, April 11; 1 p.m. Friday, Saturday and Sunday, April 12-14. Country Thunder West, 20585 E. Price Road, Florence.
Tickets: arizona.countrythunder.com.
7. Sigur Rós
Icelandic post-rock legends Sigur Rós are set to bring their biggest U.S. tour to date. The group just released its latest album, "Valtari," which received rave reviews. 

Details: 8 p.m. Friday, April 12. Comerica Theatre, 400 W. Washington St., Phoenix.
Tickets: $40, livenation.com.
8. Taj Mahal
After he repped the blues at the Rolling Stones Rock and Roll Circus in 1968, Taj Mahal took home two Grammy Awards for his 1997 album "Senior Blues." His latest is "Maestro" from 2008.
Details: 7:30 p.m. Wednesday, April 17. Mesa Arts Center, 1 E. Main St.
Tickets: $40, mesaartscenter.com.
9. The Postal Service
You've probably heard the Postal Service in one coffee shop or another. Ben Gibbard of Death Cab for Cutie and Dntel's Jimmy Tamborello have reunited for a tour and a single with Lewis on vocals called "A Tattered Line of String."
Details: 8 p.m. Thursday, April 18. Comerica Theatre
Tickets: $35-$45, livenation.com.
10. Taylor Swift
Country's It Girl visits the Valley for two days, on her lead from snagging her latest multiplatinum "Red," which became her third consecutive release to top the album charts.
Details: 7 p.m. Tuesday and Wednesday, May 28 and 29. Jobing.com Arena, 9400 W. Maryland Ave., Glendale.
Tickets: $29.50-$84.50, livenation.com.