With sea legends of mermaids and undersea odysseys, stories of distant lands and adventure sought by the romanticized perils of the sea have made anchor since ancient times.
In partnership with the Arizona Costume Institute, the Phoenix Art Museum unveiled its latest fashion exhibition in the Ellman Fashion Design Gallery Saturday.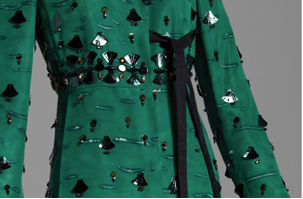 Miuccia Prada (Italian, b. 1949). Coat, c. 1995-6, hand painted silk with paillette and bead embroidery.
Lent by Mrs. Cheryl Fine.

"The Sea" lends a salty taste for more with historical seaside dress ensembles from the 1860s to contemporary resort wear. All feature motifs drawn upon nautical themes, forming a timeless trend of nostalgic fashions of another time and place.
Mabel Hay Barrows (American). Fan, 1888, cardboard with silk ribbon and metal fixtures.
Collection of Phoenix Art Museum, Gift of Miss Carolann Smurthwaite
This exhibition explores the far-reaching influence of the romance of the sea on fashion design. The designs included are drawn from the Museum's extensive permanent collection, private collections and international fashion houses including Emilio Pucci, Emanuel Ungaro and Karl Lagerfeld for Chanel.
Highlights include an early 1860s dress "water mark" made with moiré silk wool; WWI and II U.S. navy uniforms; patriotic printed cotton and elastic swimsuits of the 1930s; and a synthetic brocade and monofillment lace dress that mimicked ebbing seaside foam from the spring 2012 Karl Lagerfeld for Chanel collection.
"The Sea" will be showing in the Ellman Fashion Design Gallery, March 3 – July 15, 2012
phxart.org