A few weekends ago, I had a wonderful, whirlwind weekend at the Valley's own Four Seasons Scottsdale at Troon North. The room? Completely lovely, bursting with sunny colors. The spa treatment? A jojoba and prickly pear body polish–relaxing and refreshing. The pool? A wonderful way to kick off any Saturday morning–sipping a cold drink under the warm sun. However, the highlight of this fabulous Scottsdale staycation was getting to sample fare from three of Four Seasons Scottsdale at Troon North's amazing eateries.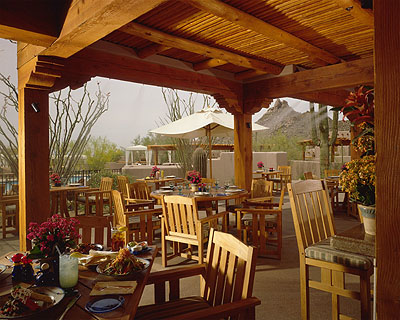 Saguaro Blossom
To fuel up after an afternoon of chilling poolside, a lovely lunch at Saguaro Blossom was in order. Luckily, this casual, open-air restaurant is located poolside so it's perfectly fine to settle in wearing your bathing suit and flip flops. I sipped on a mango mojito while I waited for my lobster BLT sandwich (the menu includes several American and Mexican-inspired dishes). The sandwich, which included juicy heirloom tomatoes and avocado, was one of the most decadent poolside bites I've ever had. And the sweet potato fries were amazing. My husband's carne asada nachos with cheese, ranchero beans, sour cream, guacamole and pico de gallo is perfect for those who really worked up an appetite swimming laps at the pool.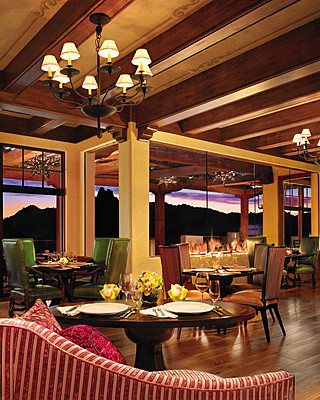 Talavera
Dinner at Talavera is always a wonderful experience–not only will the food not disappoint, but the views are some of the most amazing in the Valley. (I suggest sitting outdoors, which we did.) My favorite appetizer is the tempura king crab with beef roulade, wasabi root and ponzu. This was a perfect summertime starter. For the main event, I ordered the Maine lobster with cabbage, corn and baby squash while my husband tried the eight-ounce filet. Both the surf and turf were big hits, especially when paired with the delicious sides of charred corn (the taste of this reminded me of kettle corn) and country ham macaroni and cheese.  We suggest following up the meal with cheesecake and ordering a cappuccino while taking in the desert views for just a while longer.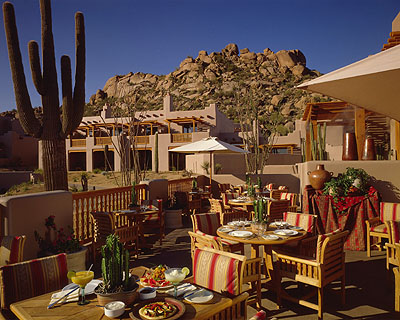 Crescent Moon
Since we were unable to decide on a single menu item for breakfast the next morning, we opted for Crescent Moon's breakfast buffet which featured made-to-order omelets, waffles, French toast, chicken sausage, bacon, salmon, bagels, pastries, scrambled eggs, cereal and plenty of fresh fruit. My favorite were the cheese-filled crepes, which I topped with strawberry compote, while my husband gobbled up the waffles and chicken sausage. A morning feast, for sure. 10600 E. Crescent Moon Dr., Scottsdale, 480.515.5700,
www.fourseasons.com/scottsdale
.