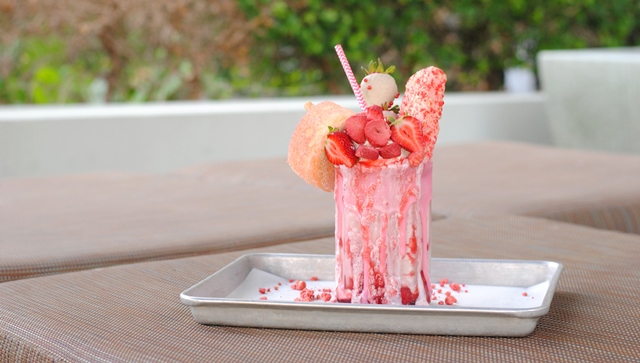 At the start of the year, Executive Chef Russell LaCasce took over the kitchen at Zuzu at Hotel Valley Ho in Scottsdale after spending time with Chef Beau MacMillan at sister property, Sanctuary on Camelback. Along with Chef LaCasce came a fresh menu that made its debut this spring. During a recent dinnertime visit, we were finally able to dig into Zuzu's newest eats, and we left with a newfound love for the longtime hotel restaurant.
The appetizer menu is jam-packed with tempting eats, starting with the Hokkaido scallops with shellfish butter, toasted couscous, fried Meyer lemon, pine nuts and asparagus. The trio of scallops simply melts in your mouth while the fried Meyer lemon offers up a touch of tang that complements the butterlike scallops. Tang meets creaminess in another starter, as well: the burrata. The velvety burrata is paired with pickled green strawberries, as well as toasted pistachio, mint pistou, Thai basil, strawberry vinegar and smoked sea salt. The variety of textures and flavors (sweet, sour, salty, smokey) makes quite the delicious impression when piled upon a toasted piece of accompanying Noble Bread. During our visit, the soup du jour was a creamy chowder of mussels and chorizo. This beautiful combo was smokey and spicy, with plenty of plump mussels–the perfect soup for a rainy monsoon night.
Though it is listed among the shareables and small plates, there is nothing petite about the colorful summer orecchiette pasta. In the hearty bowl, the pasta is crowned with crisp summer vegetables, like corn, zucchini and snap peas, which have been prepared simply yet perfectly in olive oil and herbs. (This makes great leftovers, too.)
Now would be the best time to buckle up, as the next two dishes aren't for the faint of heart. The Baker's Bacon Chop is a sight to behold; it is a giant piece of bacon, after all. The chop comprises loin with back bacon that has been cured, smoked and honey-lacquered. Though we were expecting plenty of soft, fatty bits, the chop was thick and meaty, through and through. Though bacon is never going to win a beauty pageant in a time of Instagrammable eats, each bite was smokey with a touch of sweetness and unlike any dish in the Valley that we've tried. The dish is filled out with green harissa, burnt orange, fresh herbs, pickled chiles and, naturally, pork rinds.
Another showstopper is the aptly named Showstopper Strawberry Shortcake Shake (pictured), created by Pastry Chef Audrey Enriquez. This larger-than-life dessert creation features a strawberry shake topped with whipped cream, white chocolate-covered strawberries, a wafer, strawberry shortcake crumbles and one of those strawberry crunch ice cream bars that you couldn't get enough of during the days of chasing the ice cream truck. Well, we would gladly chase down Chef Enriquez for a second helping of this. Though it could get away with just being a photo op (it does have its own hashtag #zuzushowstoppershake, after all), this shake was super-tasty bursting with real strawberry (not artificial) flavor. (We're told this shake will change each month, but be just as over-the-top.)
The cocktail game at Zuzu is just as strong as its food offerings, with some of our favorites being found on the barrel-aged cocktail list (this list changes regularly). The house-made, barrel-aged limoncello with lemongrass and tart yuzu, and the Dandy Red with Johnnie Walker Red, fresh blood orange peels, estate-grown rosemary, roasted dandelion root, carpano antica and cherry liqueur, make the perfect after-dinner drinks. Sweet, juicy and full-bodied, these mouthwatering options could be desserts themselves, sipped slowly and savored.