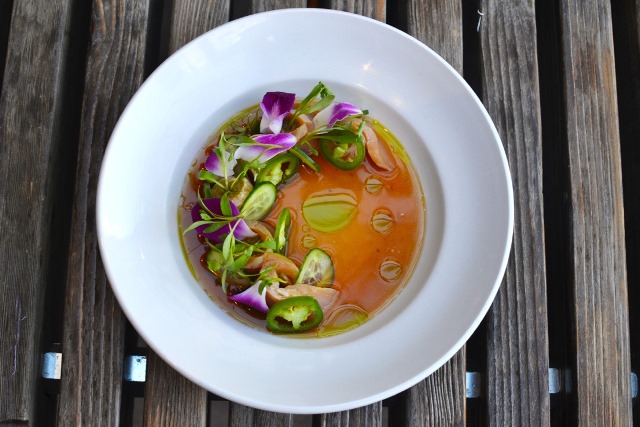 If you're a fan of ramen, a fan of sushi, a fan of amazing cocktails or just a fan of a cool, laidback dining experience that revolves around great food, Scottsdale Quarter has just opened a new spot you must check out: OBON Sushi + Bar + Ramen. OBON, which is a popular Tucson-based concept, opened its doors earlier in the month where TK's Urban Tavern used to reside. During a recent preview event, we had the chance to dig into the amazing menu.
The OBON menu is broken into several categories, including starters, salads, ramen, mains (where you'll find dishes like chicken teriyaki), crudo, steamed buns, sushi and cocktails. Though you'll be chomping at the bit to dig into a big bowl of ramen, take a moment to take in the incredible cocktail menu. The coconut thyme cocktail is creamy and tropical, with large bits of jelly to create an interesting texture, while the New Growth is utterly refreshing and unique, featuring sweet pea gin. The cocktails' presentation is tops, too.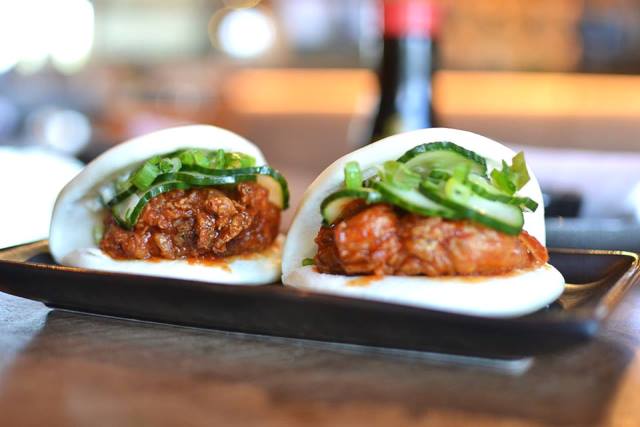 The steamed buns are among the best we have tasted in the Valley. The bao were pillowy and light, filled with your choice of pork belly, fried spam, fried chicken or soft shell crab. (We loved the sticky Bird Bun, pictured) with fried chicken, fuku sauce, Japanese mayo, scallion and cucumber.) We also opted for the vegetarian ramen offering (there are six options to choose from) and were sopping up every last sip of the heavenly red miso broth.
OBON's lineup of signature rolls includes some tempting, creative options, with our favorite being the Tataki Maki. The colorful collection of rolls features spicy crab, shrimp tempura, avocado, seared tuna, Asian chimichurri, grape tomato and micro basil. Not only was the roll finger-licking-good, but we were delighted by OBON's thoughtful, Instagram-me-now presentation. OBON also has a few nigiri offerings (each order has two pieces), with the yuki salmon being our favorite, served with bonito flakes and ponzu cream. (Thinking back, we should have ordered a second round.) Though it was no-frills, it was bursting with texture and pure deliciousness.
Our favorite dish of the evening was from the crudo section of the menu: the yuzu yellowtail. This dish proves how using simple, quality ingredients can have such a huge, flavorful impact. The plate of yellowtail was topped with orange peel, spicy yuzu, crispy ginger and cilantro greens, resulting in a tangy, citrusy dish that is perfect for summer. Each bite was an experience for the senses.
And though tiramisu isn't the first dessert that comes to mind when thinking of sushi-shop sweets, OBON's version, featuring neighboring Press Coffee, is creamy and decadent. Even those who aren't fans of the traditional presentation should try this baby (there isn't an abundance of wet ladyfingers here), as the coffee flavor is super authentic and forward.