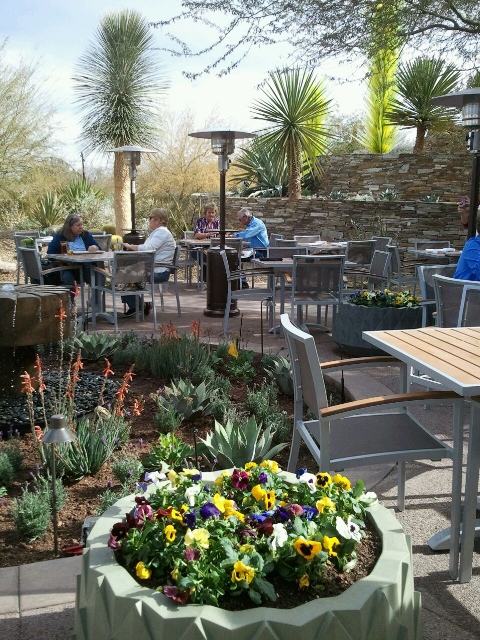 The fall and winter seasons are the ideal time to visit Desert Botanical Garden in Phoenix, thanks to Chihuly in the Garden debuting Nov.10 and 31 nights Las Noches de las Luminarias, a Valley favorite for Christmas. Apart from all the gorgeous desert flora and fauna–and the amazing aforementioned events–Desert Botanical Garden is home to an amazing restaurant, Gertrude's, which we recently had the chance to visit. (If you are just visiting for a meal, you don't have to pay garden admission.)
Outside of the fare, Gertrude's impresses with its fab patio. The large patio provides a front row seat to much of the garden's natural beauty and desert animals, like quails and lizards. Especially this time of the year, Sunday brunch, breakfast, lunch or dinner at Gertrude's is not to be missed.
For starters, order up the beautiful hummus plate, which during our tasting was rounded out with house-made pickles, celery, carrots, cauliflower and crackers. The Brussels & Breakfast plate is another delectable appetizer, featuring thick brioche toast topped with a farm egg, brussels sprouts and applewood bacon. While brussels sprouts is a popular veggie on menus today, Gertrude's interpretation doesn't rely on sauces and other heavy ingredients, instead letting fresh flavor of the green goodness shine through.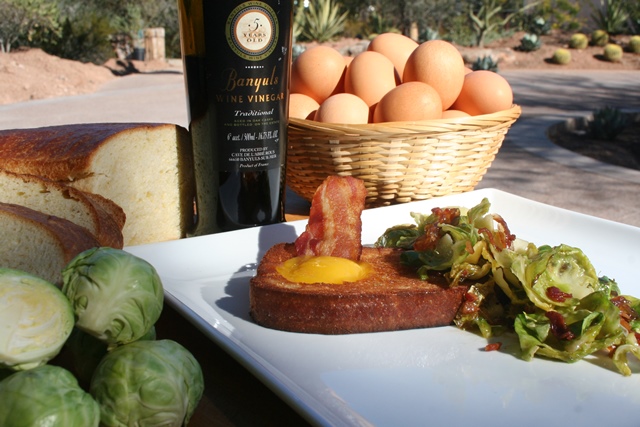 For a hearty entree, the 3 Napkin Smoked Swine sandwich might be messy, but it is tasty. Between two thick slices of ciabatta, the sandwich features sliced smoked pork, jack cheese, cilantro, pickled apple and pickled onion. On the side is slightly spicy red chile drown for dunking.
Before heading out to enjoy the rest of the garden, place an order for the chocolate souffle (mind you, this takes 40 minutes to prep so order it early). The chocolate cloud–with a perfectly crisped top and a warm gooey interior–is served in a small jar and comes alongside a creamy block of chocolate mousse and a swipe of white chocolate cream. www.gertrudesrestaurant.net.