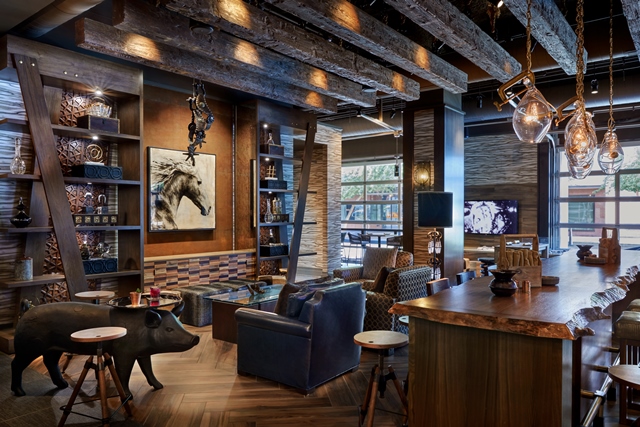 Arizona is very familiar with dust in the summertime. Hello, haboobs. But now there is "dust" in the Valley that we are welcoming with open arms (and mouths): the just-opened Dust Cutter at the newly revamped Renaissance Phoenix Downtown Hotel. 
Touted as a modern urban saloon, Dust Cutter (which refers to the drinks that cowboys would need to "cut the dust" on their teeth) pays an homage to the wild west in the most chic way possible. You won't know where to look first as the eye candy is plentiful. The ceiling is decked with over-scaled railroad beams, the walls house animals skulls that have been carved with gorgeous lacelike details, bold lighting fills the space and a variety of seating options are available, from the 15-ft. Post and Perch table with power outlets for slipping in a little work while sipping to cozy tables along the massive garage doors that will open when the weather is right.
As much as you'll want to Instagram every inch of the space, you'll want to put that phone down and pick up a fork as the food at Dust Cutter is worth your full attention. Executive Chef Josh Murray is inspired by the Sonoran Desert climate and ingredients (you'll even see mesquite tree pods on the ingredient list) and uses a fresh, modern approach to create a delicious menu of starters, salads, flatbreads, burgers, hearty entrees and much more.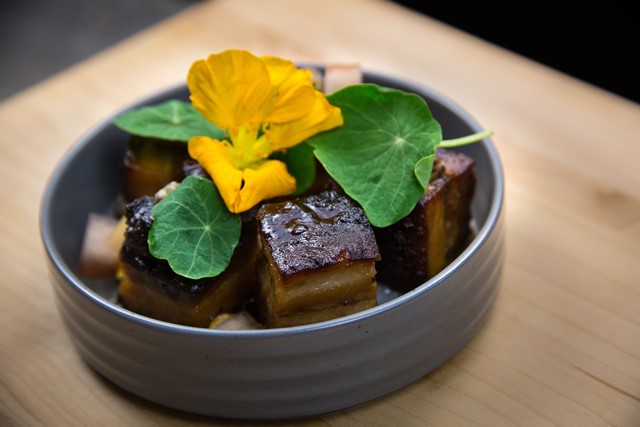 Though you'll be tempted to jump right into the chicken and mesquite pod waffles or steak frites, be sure to take pause at the appetizer list. The tender belly bacon-wrapped stuffed dates are like smokey, sweet-meets-salty lollipops that you'll devour in moments while you won't even be able to let the cilantro-agave butter melt over a slice of the hatch chile Hayden Mills corn bread skillet before digging in. (And no one will judge if you just take a spoon to the butter, it's that tasty.) For a truly decadent start to your repast, the house-smoked (for 36 hours, to be exact) pork belly will melt in your mouth. It is served with Copper City bourbon date glaze, candied pistachios, nasturtium and pickled watermelon rind for a unique medley of textures and flavors.
For a light meal, the Urban Market salad–with seasonal organic greens, Arizona citrus, pretty watermelon radish, cucumber, baby heirloom tomatoes and pistachios–features of rainbow of colors and crisp flavors that are sure to refresh in the summer heat. The toasted quinoa bowl dishes up delicious nutrition with roasted corn, tomatoes, Grand Canyon onions, Fresno chilies, cilantro and black beans that is filling and packed with good-for-you goodies. Another divine bowl option, the burrito bowl might read like the Chipotle standby with cilantro lime rice, beans, shredded lettuce, pico de gallo and guacamole, but Dust Cutter's version takes the dish up a notch–well, several notches–with a delicious, tangy lime crema and slices of tender, flavor-packed flat-iron steak. (You can also choose carnitas, chicken, southwestern quinoa or cobia, instead of steak, to round out the dish.)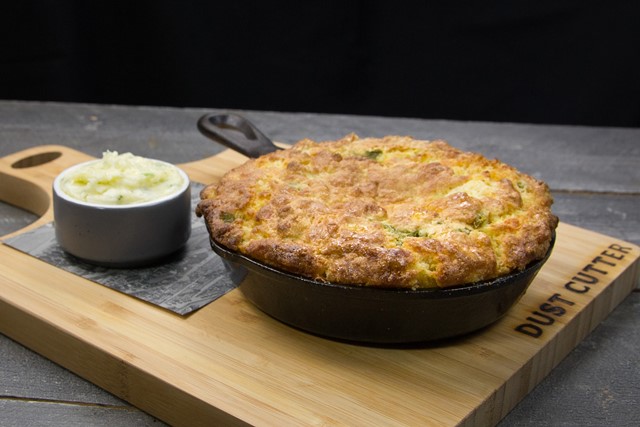 Though we had one too many tender belly dates to sample dessert, the next visit to Dust Cutter will definitely include avocado-lime cheesecake and sopapillas with ancho chili chocolate sauce and blue agave caramel.
P.S.: At 6 p.m., Monday through Thursday, locals and hotel guests alike are invited to the Discovery Hour in Dust Cutter. During the complimentary event, a bartender will fill an old-fashioned punch bowl with a tasty libation and invite imbibers to sip and savor.