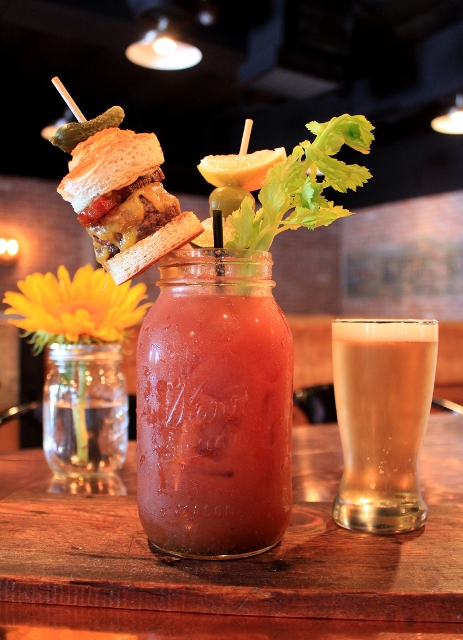 There are some spots you visit when you want to be good. When you know bathing suit season is approaching. When you aren't super hungry and just want a side salad. Bootleggers in Old Town isn't one of those spots. (There is a Phoenix location, too.) Bootleggers dishes up divine melt-in-your-mouth barbecue, hearty eats like massive burgers, and moonshine. Though you won't win any points with your dietician at Bootleggers, your taste buds will surely thank you.
Bootleggers doesn't hold off on the meat action until the entrees roll around. On the appetizer menu, you'll find the must-order bacon board–a, you guessed it, board that is decked with four types of bacon that range from light and crispy to thick and juicy (tenderbelly dry-cured apple and cherry wood; boot bacon; jalapeño bacon; and house-smoked pork belly) with griddled cheese toast, sweet onion jam, red pepper jam, whole grain mustard and gherkins. Another meaty way to kick off your meal: the nachos flat that is chock-full with chopped brisket hash, chipotle cheddar sauce, jalapeño and avocado relish. (This is so tasty, Bootleggers' owner said he would eat this every day.) Apart from the deliciousness, the best part of this appetizer is that the chips are thick and hearty, strong enough to hold all the ingredients so you can pile them on in each bite. No thin, soggy chips here.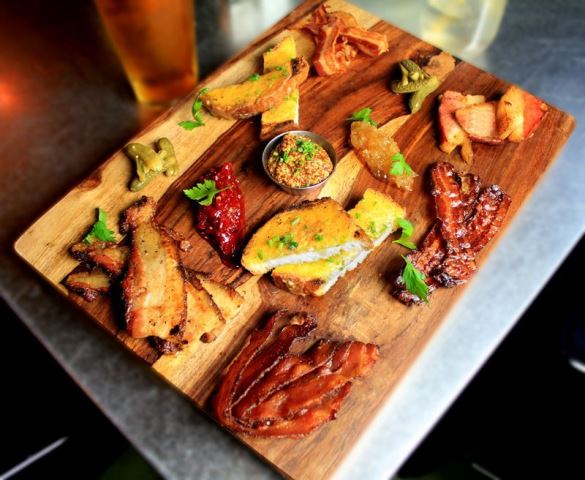 Haven't had enough bacon? Try the Bootleggers burger with house sauce, muenster cheese, whiskey onions, crimini and, of course, slab bacon. This monster of a burger melts in your mouth–and the accompanying house-made chips are tasty, too. Though you can't go wrong with any of the eats from the BBQ program, order the sampler to get a taste of it all: brisket, pork, hot link, turkey and ribs. (The hot link and brisket are personal faves.)
To wash it all down, Bootleggers has a stellar cocktail program. For something you won't find elsewhere, try the restaurant's selection of moonshine or moonshine cocktails, including the house-made apple pie recipe, crafted from a secret recipe. www.bootleggersaz.com.