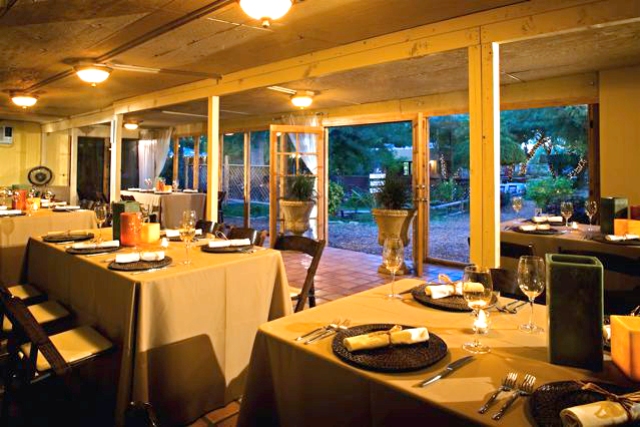 Fellas: Do me a favor, please. Treat your lady to a romantic repast at Quiessence restaurant at Phoenix's The Farm at South Mountain pronto. This season only lasts so long, and its a superb time to take in chef Greg LaPrad's amazing farm-to-table, super seasonal cuisine.
Last week, my husband and I enjoyed the cool weather and dined alfresco at Quiessence, under a sky of stars and an awning of white twinkle lights. If the food was just so-so, this would have been a memorable experience–however, the Contemporary American fare, concocted of mostly local, fresh ingredients, was really amazing. We opted to try the Farmer's Feast tasting menu. For $65 each (it's an extra $35 for wine pairings), we tasted six incredible courses. (Please note that the menu at Quiessence changes nearly daily.)
Our first course was the highly celebrated Chef Spread, a sensational selection of incredible cheeses, all from small dairies, and house-cured meats. The next course highlighted two of Quiessence's salads: the house-pickled Spanish mackerel with McClendon Farm's frisee, marinated snow peas, shaved red onion and dill mustard vinaigrette as well as the fingerling potato and baby arugula salad with eggs, shaved celery and creamy buttermilk blue cheese vinaigrette. (My husband and I were each given a different plate for most courses so there was even more to taste.) While the cold, pickled Spanish mackerel might be an acquired taste (I loved it, my husband was a little scared of it), both salads were different than the usual bed of greens and very delicious.
The next pasta course was my favorite. The hand-made tarajin pasta with escargot and Parmesan was divine, and the house-made Black Mesa Ranch goat cheese caramella with red beet sauce and brown butter was even better. The creamy goat cheese oozed from the candy wrapper-shaped pasta and paired wonderfully with the chilled beet sauce and warm butter. Mmm.
The pan-roasted wild-caught Great Lakes walleye with red potato hash, mushrooms and carrot sauce made up our seafood course. The flavorful, flaky fish was surrounded by crisp skin, and we loved sopping each bite with carrot sauce. Our final savory course was slow-roasted lamb with sugar snap pea puree and roasted baby carrots and turnips was tops. Hearty, tender lamb plus a light, refreshing puree is a pretty incredible combo. And although I'm not usually a sausage fan, I was pleasantly surprised by the house-made pork sausages. However, the fried fennel was my favorite part of the dish.
We ended our repast with an amazing dessert duo that featured a pecan and chocolate square with vanilla gelato and a white chocolate butter cookies with hazelnut-chocolate ganache, caramel sauce and poached pear. These fall-friendly sweets were the perfect way to end our autumn evening at Quiessence. http://www.quiessencerestaurant.com/.