With an ever-changing restaurant selection, Las Vegas has no shortage of delectable dining options. From craft burgers and crazy milkshakes, to authentic Spanish paella and Italian pastas, you can discover any variety of cuisine hidden somewhere on the Strip. Here's what to indulge in during your next stop in Sin City: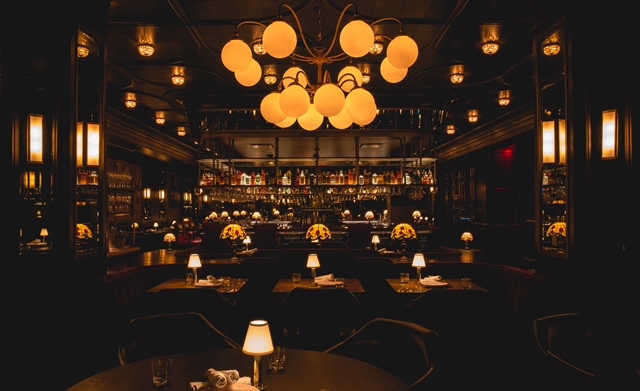 Step off the Park MGM's casino floor through a leather-padded door into Bavette's Steakhouse to feel as if you're stepping into a speakeasy of another time. The famous Chicago-based restaurant opened in Las Vegas just this past October, and its upscale, cozy atmosphere fits in perfectly with the soon-to-open Park MGM (The Monte Carlo in its former life). Bavette's lived up to its internationally renowned reputation thanks to delicious bites perfectly paired with exceptional drinks.
Bavette's impressive cocktail menu was small but mighty – inspired by classic cocktails, but with tastefully modern twists. After much internal struggle, I opted for their Lillet rosé martini, crafted from Tito's vodka, St-Germain and Lillet rosé. The subtle, dry yet sweet flavor, was a perfect complement to my dinner.
We kicked off our meal with their famed baked crab cake made from blue crab, which was fluffy, yet rich, and served with preserved lemon and remoulade. My favorite appetizer however, had to be their steak tartare, served with dijonnaise and a perfectly slow cooked egg in the center to mix into the meat for a decidedly pleasing flavor combination.
From Bavette's selection of salads, the wedge salad was a knockout featuring egg, Gorgonzola and onions, and most importantly, melt-in-your-mouth thick-cut maple bacon, which is also served in slices as a side dish (as you will need to order more of this).
For the main course, we sampled two of their most popular steaks, the bone-in filet mignon, which has a more savory flavor, and then the dry-aged bone-in ribeye with a nuttier flavor – both were served alongside a traditional, creamy béarnaise sauce. For an added punch, the roasted bone marrow is a decadent accompaniment to any of their meat selections.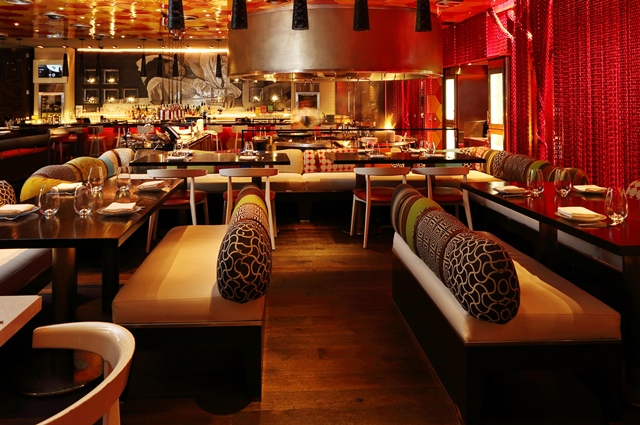 Paella takes the center stage at Jaleo by José Andrés, which is found within the upscale Cosmopolitan hotel. The restaurant's deep red decor envelops guests in a spicy atmosphere, and the live flames generated by the paella cooking station in the center of the restaurant turns up the heat. This station can accommodate as many as four paellas cooking at once on massive pans, allowing guests be immersed in the paella experience.
This central cooking station was the setting of our paella-cooking journey. Jaleo's Head Chef Luis Montesinos imparts the passion, history, and culture behind the signature Spanish dish while directing participants through a tasty and memorable event. Together, we created Valencia Paella from tomato, rosemary, lima beans, Bomba rice, saffron, Romano beans, chicken and rabbit. Throughout our culinary adventure, Montesinos reflected on his time working under the tutelage of Andrés. He also referenced how his time cooking in San Sebastián, Spain influenced his craft and cultivated his appreciation for paella not only as a dish, but also as a communal event.
When it was time to taste the fruits of my labor I was not prepared for the rich and robust flavor that was born from the simplest of ingredients. The meal paired perfectly with Jaleo's spicy craft cocktail, the Margarita Donostiarra, which does not have your average sweet lime flavor. This memorable drink is made with arbol-infused blanc tequila, bay leaf syrup and lime, then garnished with a sherry salted rim and a chili pepper for an added kick of heat and color. Our paella was followed by several rounds of the restaurant's tapas including their Endibias: endives with goat cheese, oranges and almonds, Gambas al ajillo: the famous tapa of shrimp sautéed with garlic, and the restaurant's homage to Spanish fast food – Croquetas de pollo (traditional chicken fritters) served in an actual vintage leather boot!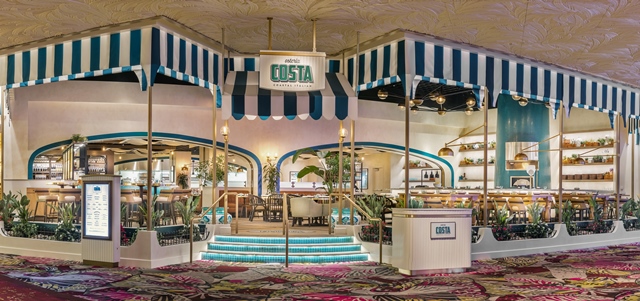 Step off the casino floor of The Mirage to be transported to the Amalfi Coast of Italy at the brand new Osteria Costa. The restaurant makes guests feel as if they are dining on an ocean-side terrace (rather than in a casino in a desert) with warm oceanic decor, white and blue awnings and pops of pink throughout the space. The menu is separated into courses for a true Italian dining experience. Wine pairing is also available, and the restaurant highlights some of the finest Italian wines that accentuate the flavors in each dish.
The recipe creations from Osteria Costa left us feeling as though we were savoring authentic Italian fare, crafted from garden-fresh ingredients. I loved the beef carpaccio served topped with bed of marinated arugula and truffle pecorino, and paired with a Moscato d'Asti. You can't leave Osteria Costa without sampling their house-made meatballs in classic Italian style made from pork and beef, served alongside whipped ricotta cheese, which perfectly complemented the Ochetti Nebbiolo red wine. For a unique spicy-sweet taste, their Piccante Pizza with salame, calabrian chiles and honey has a flavor pairing that I am still dreaming about. The restaurant's pastas really are as authentic Italian as it gets, with my favorites being the fettuccine Neapolitan style with beef ragu, pomodoro, and pecorino, as well as the rigatoni alla norma with eggplant and basil.
I might have said that the highlight of this evening was dining two tables away from David Spade, Ray Romano and Amy Schumer – that is, until I tasted Osteria Costa's olive oil cake and the stars in my eyes were only for this dish.  Don't let the name "olive oil cake" dissuade you; it may sound strange, but it delivers a rich, sweet flavor, with its spongy goodness and indulgent, fluffy whipped cream. Osteria Costa is brand new, but was definitely a dining experience to be remembered from my Las Vegas weekend.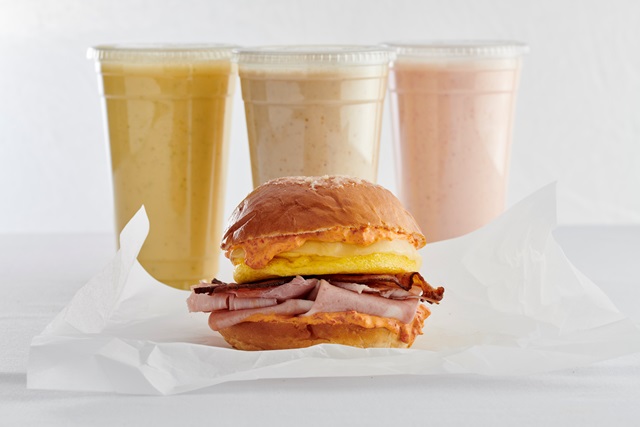 Food Network's Giada De Laurentiis found success in an untapped market in Las Vegas with her quick breakfast concept, Pronto by Giada. The Italian-meets-American menu features traditional American breakfast sandwiches with Italian twists such as the pancetta and provolone, and the antipasti with bacon, prosciutto cotto, mortadella, piquillo pepper mascarpone and provolone. Each sandwich is served on the fluffiest bun, with an abundance of melted cheese – making it the perfect morning meal after a night out in Las Vegas. The menu also offers tons of other breakfast and lunch options from parfaits and oatmeal to sandwiches and soups. The counter service breakfast spot also has a large selection of De Laurentiis' signature desserts such as her lemon ricotta cookies and a variety of different cakes by the slice. If you're looking for a fast, but high-quality meal, Pronto by Giada is not to be missed.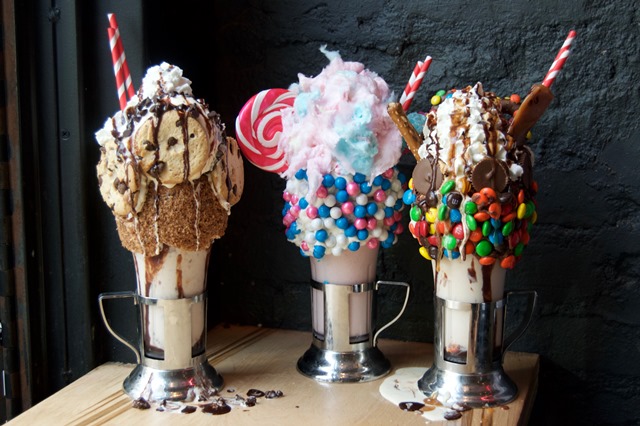 Crazy shakes are not just for NYC anymore. The milkshakes taking over Instagram – with candy lined rims and cookies on top – from Black Tap Craft Burgers & Beer have finally landed in Las Vegas. This burger joint draws long lines to the Venetian for those looking for an Instagram-worthy photo. The shakes aren't the only thing good here. Their Elderflower Froze, made with rosé, strawberry, citrus and elderflower, is sweet, buzzy and perfect for a hot pre-pool party summer day. Let's not forget about the burgers. Their delicious Truffle Burger was crafted exclusively for the Las Vegas location and is made with wagyu beef, smoked Gouda, baby arugula, and finished with truffle-yuzu vinaigrette and black truffle mayo. Yum!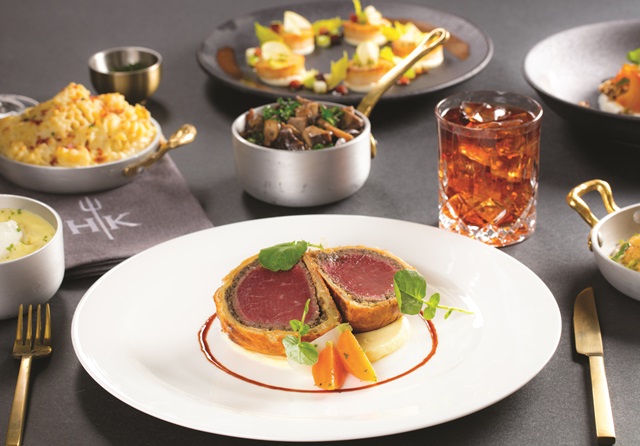 Fans of Gordon Ramsay rejoice – the new Hell's Kitchen restaurant situated on the Caesar's Palace property in a prime Strip-facing location takes diners on a theatrical excursion throughout their meal. Our waiter advised us that we had stepped into Hell's Kitchen, so to not be surprised if we experienced fire or smoke, and he was not kidding! We started the meal with a round of cocktails and the pan-seared scallops with celery root, braised bacon lardons and pickled granny smith apples. One of their specialty cocktails, Notes from Gordon, lives up to its name, arriving with a small rolled note featuring a hilarious message from Gordon himself. (Mine read, "This fish is so raw, he's still finding Nemo.") For the main course I sampled Ramsay's famous Beef Wellington and it was perfectly cooked all the way through and served with potato puree, glazed vegetables and a red wine demi-glace.
Between dinner and dessert, I ordered their Smoke on the Blvd cocktail, which was more of a show than a drink. The waiter brought out a smoked-filled glass box, opening it in a dramatic fashion, and as the smoked poured out of the case with the flair of a magician's trick, the gin-based drink appeared.
Moving into the dessert course, the theatrics were far from over. Our table shared the pineapple carpaccio and when it arrived on a round glass platter, the waiter poured water into a center compartment, and smoke started to encompass the fruity dish thanks to hidden dry ice. The dessert was served with citrus foam, coconut sorbet, passion fruit and coriander, and was the perfect light and fruity end to the meal. The trip to Hell('s Kitchen) and back was definitely worth the hype.
As my weekend came to a close, my taste buds had been on a diverse culinary journey, ranging from quick breakfast sandwiches to the most indulgent fare that Sin City has to offer. It's safe to say that no matter which route you take while dining in Las Vegas, you will not be disappointed. –Samantha Stull