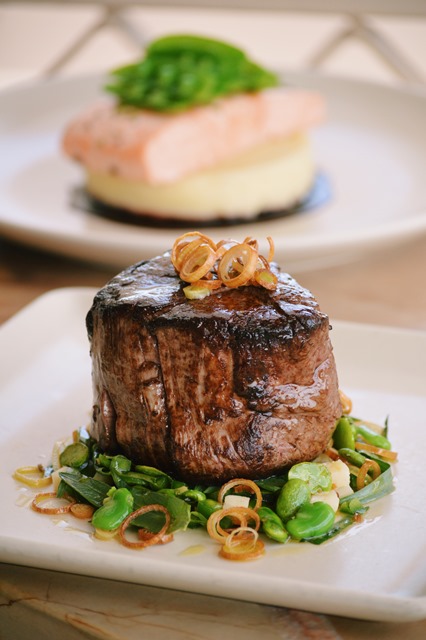 This Mother's Day, give Mom what she really wants, a gourmet, chef-crafted steak dinner alongside her friends and family. And maybe some fabulous sparkling wine from a Wine Spectator-awarded wine list. Hosted from 5 to 10 p.m. on Sunday, May 13, J&G Steakhouse is the ultimate Mother's Day dining destination, combining a choose-your-own three-course feast with the Valley's most scenic dining room. Full menu ($55 plus tax and tip per person) is below, but don't miss seasonal favorites such as tender carrot soup with pea dumpling, yuzu and mint, and be sure to save room for housemade desserts such as ooey-gooey warm chocolate cake or fluffy, meringue-filled strawberry pavlova.
J&G Mother's Day Menu
Steamed Shrimp Salad
tender greens and Champagne vinaigrette
Or
Tender Carrot Soup
pea dumpling, yuzu and mint
~
Crispy Artic Char
creamed fava beans and lime
Or
Grilled Hanger Steak
cherry mustard sauce, mustard greens and purple potato chips
~
Warm Chocolate Cake
caramel ice cream
Or
Strawberry Pavlova
crisp meringue and vanilla ice cream
Next on May 18 to 27, it's the return of Arizona Restaurant Week at J&G, with a special three-course menu handcrafted by Chef de Cuisine, Jacques Qualin. For only $44 plus tax and tip per person, enjoy your choice of three different appetizers, entrées and dessert, including J&G's signature dungeness crab salad or grilled prime flat iron steak.
J&G Steakhouse will also offer its full a la carte menu for both Mother's Day and Arizona Restaurant Week.